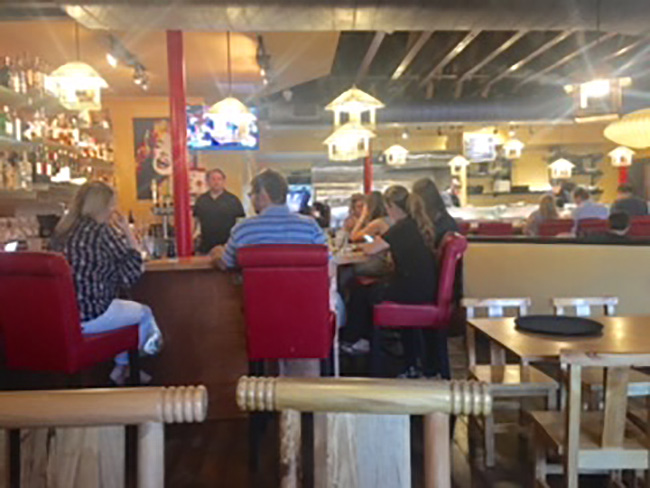 When Ronald Cheng's Street Restaurant debuted last year on Greystone in the space that had formerly housed Musashino, there was a definite Chinese tilt toward the pan-Asian menu. I loved the restaurant then and I still do, even though it has taken on decidedly more of a Japanese inclination.
We started the other night with some gyoza that were spot on and a beautiful clay pot filled to the brim with udon noodle soup. The soup was a lovely soy broth with the classic plump noodles of Japanese lore with fish cake, shungiku, egg and mushrooms. It is a meal in itself and a welcome addition to the Street menu. I could eat this every day without tiring of it.
The Shaken Beef remains from the former menu and it as always was a flavorful and very tasty dish. Cubes of beef are sautéed in an oyster sauce reduction and and the searing taste provides remarkable mouth feel. This is a dish that can and should be shared.
Another fav was the BBQ short ribs. The short ribs are a savory delight and the key is the house made BBQ sauce. This is way beyond lip-smacking good. The flavors come at you in waves, and each tender rib is redolent with palate pleasing and comforting taste sensations. They quickly disappeared from the platter and were so good we ordered another.
There is considerably more maki and sushi/sashimi on the menu at Street. Jennifer tried the appropriately named Ex Wife Roll (who else but Ronald could come up with this name?). The roll mixed salmon, cream cheese, and avocado with jalapeño and cucumber and tempura crumbs with a unique hybrid sauce. This was a show stopper: every piece was an amazing melange of subtle and more definitive flavors. She shared with us and we were glad that she did.
Sashimi is a requisite at Street and there is a large selection. While the chu toro was unfortunately sold out we did have some amazingly nice hamachi (yellowtail) which not only presents beautifully but has a pristine and totally engaging flavor. The picture below really says it all.
It's hard to really sum up the myriad influences Ronald Cheng can pull together to create another very good restaurant. He'll be off soon to Taiwan searching for new ideas and I imagine they'll be happily reflected in our next review of Street or Chinatown.
Street Restaurant
3407 Greystone Dr.
Austin, TX 78731
(512) 382-9567