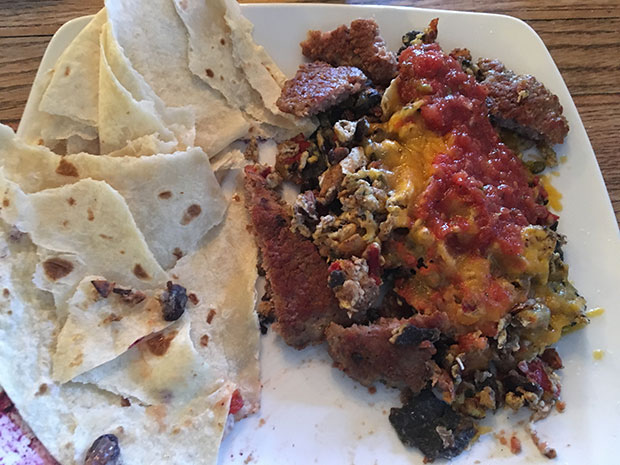 I owe this find to Adrianna Cruz, head of the Greater San Marcos Business Partnership. She invited me to this delightful cafe in San Marcos near the Texas State U Campus.
The Root Cellar has a long history going back to the G.W. Donaldson Hardware Co. and the Bond Cafe and Restaurant in the 1930's.
Under current ownership since 2005 The Root Cellar is the only brew pub in the area that serves home produced micro brews. And I like the fact, breakfast aficionado that I am, that they serve breakfast each day until 4pm.
My first meal there was The Migas. They're a slight departure from the norm with scrambled eggs, pico de gallo, tortilla chips, cheddar cheese, and black beans. The huge flour tortillas that come with the dish really enhanced the authenticity and the taste and the artful presentation made we want to get the IPhone camera out! The flavors were mellow with a bit of zip, just the way Migas should be.
Next visit I tried the delightful Seafood Scampi for dinner. Frankly I was surprised at the high end taste components and the classic preparation of the seared scallops, mussels and shrimp as they were sautéed and tossed with pasta in a white wine sauce along with arugula and tomatoes. The mouth feel of this dish was spot on although a tad more garlic would have teased my NYC sensibilities. Nonetheless, I would recommend.
The Root Cellar does casual and fine dining with equal aplomb. That's a compliment to the kitchen and a virtual assurance that my next visit to San Marcos will take me back to this neat little spot.