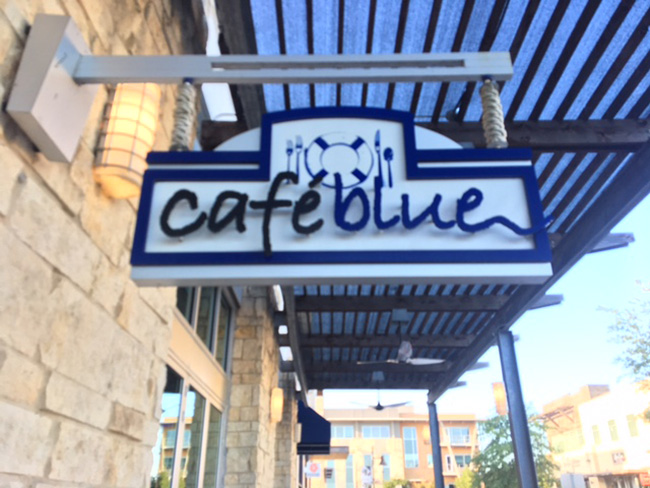 From their beginning at a seasonal location near Volente Beach to their current digs at the Hill Country Galleria at Bee Cave, Café Blue has maintained two hallmarks that characterize successful restaurants: innovative and consistent cuisine and a sense of how to deliver a pleasing experience to customers.
My recent dinner at their new Galleria location embodied those characteristics. The fare from Chef Chelsea was everything we've come to expect. We began with an order of chilled Malpeque oysters that were resonating with that beautiful briny flavor characteristic of these cold salt water bivalve molluscs.
The perfect sequel to the oysters was the New England clam chowder. This is Exec Chef Ben Nathan's creation and it reflects his Boston background. It's smooth and creamy and has an appealing bacon back flavor. And it's not overloaded with potatoes as one sometimes finds.
Next up was their famous coconut shrimp which we seem unable to resist. The beauty of this dish lies in the beer batter that coats the plump shrimp and the jalapeño apricot marmalade. Each crisp bite is a lovely reminder to me of how glad I am that I'm not allergic to shellfish.
Then we tried the cedar plank salmon. The key to any salmon dish is not to overcook it. Our dish was spot on with a brown sugar ancho chile coating and each slice came off in texturally tender symmetry. The flavors were mellow and nuanced and I loved the blue crab butter sauce.
We then veered a bit to another long-term Balon family favorite: the Cubano. This sandwich, again an original from Ben Nathan that goes back to his days at The Belmont, is wonderfully moist and consists of slow roasted pork and ham along with Swiss cheese and chipotle mayo. It's then baked and grilled and thanks to Ben and Chelsea's talents, it's moist (absolutely critical) and tasty. Easily one of the top two Cubanos in town.
As mentioned earlier, Café Blue gets customer service. Our server that evening was quite professional and her attentiveness contributed to a seamless dining experience. And that's what we've come to expect from Café Blue, whether at the Hill Country Galleria or the new downtown location.
Café Blue – Hill Country Galleria location
12800 Hill Country Blvd., Suite G-115
Bee Cave, TX 78738
(512) 366-5230