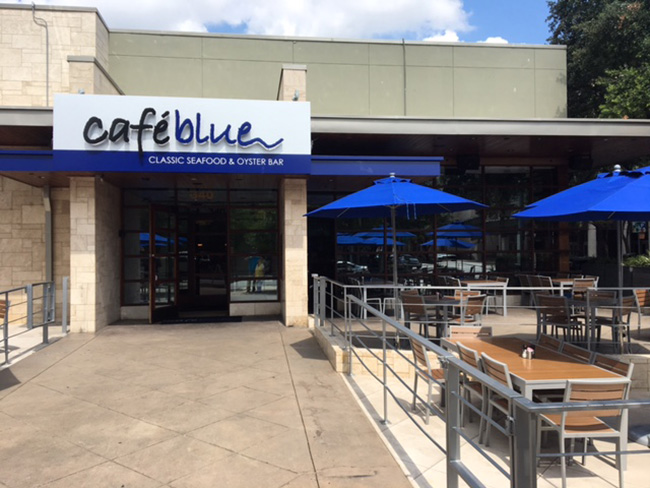 You all know that I'm an unabashed lover of great sunday brunches. Trio, Fonda San Miguel … there are many great ones. But Café Blue has stepped up and joined the ranks of the must visit spots. So we went to their new downtown location on 2nd Street across from the convention center. Exec Ben Nathan was in rare form and what a brunch we had!!
We began with a couple of really spot on Virgin Marys (sans salt), personally crafted by our server. They went beautifully with the migas which were as moist and full of flavor as any I've had in some time. Of course the eggs were scrambled with the requisite tortilla chips and pico de gallo, but the topping of queso totally sealed it on the flavor front. Very tasty.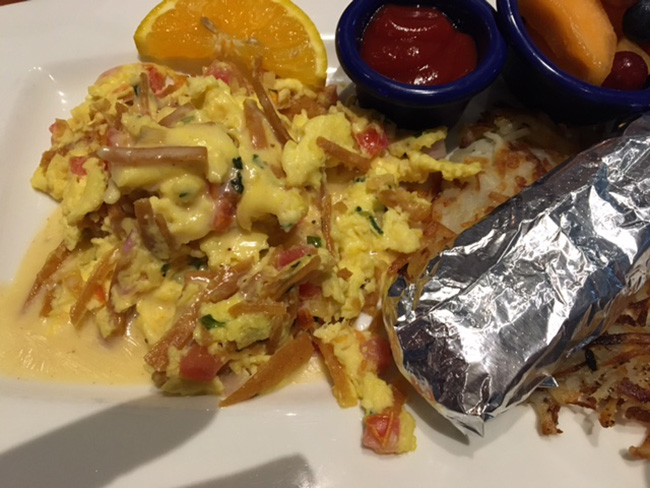 The Migas at Café Blue
Then we tried the Bacon and Brie Burger. As always, I've never had a bad burger at Café Blue and the streak continued. This burger featured smoked bacon and a smooth and creamy brie along with a Louis sauce and a pile of crispy onion rings. Great concept burger with excellent taste. Love the challah rolls as well.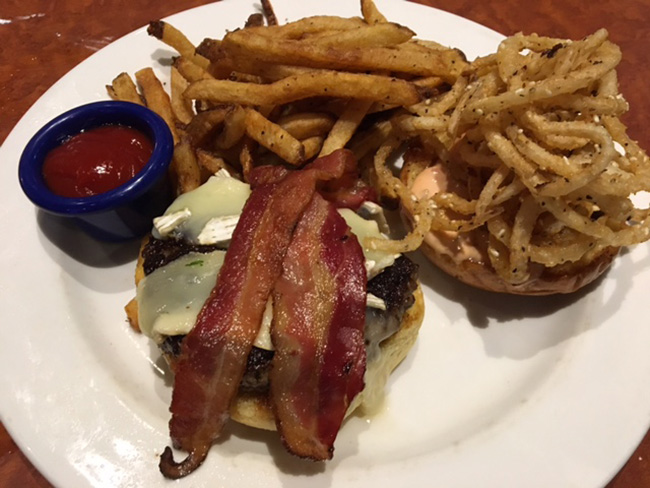 The Bacon and Brie Burger
Next up was one of the assortment of Eggs Benedict dishes that Café Blue has become well known for. We tried the Biscuit and Gravy Benedict and may I say to my gravy loving readers that this is one worth sampling. The combination of fresh biscuits and white gravy along with poached eggs and sausage is irresistible. Every bite is laden with richly etched flavors and it's one of those dishes where you almost want to order seconds.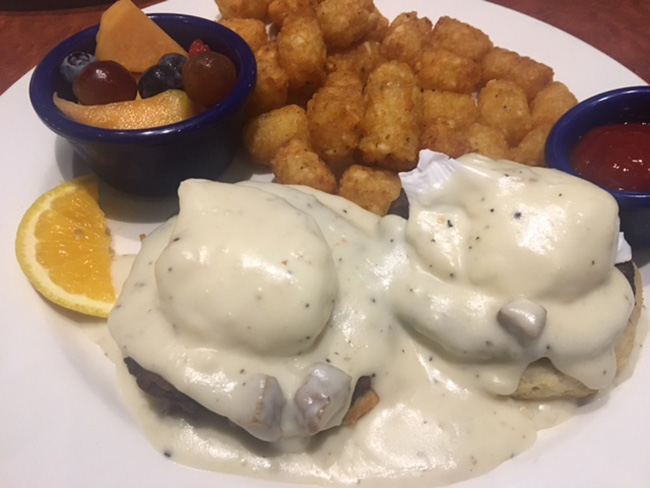 Biscuit and Gravy Benedict
Then came the mother lode of Benedicts in my humble opinion. The Maine Lobster Eggs Benedict starts with a  crispy English muffin, seriously fresh Maine lobster (no rock lobster here), addictive Hollandaise sauce over poached eggs and the lobster, and crisp home fries along with fresh fruit. Two items here go into the exceptional category: the sweet lobster and the damn near perfect Hollandaise. They elevate this dish to the pantheon of Benedict dishes. Kudos to Chef Ben and the kitchen.
Maine Lobster Eggs Benedict
So now you know another great spot downtown for Sunday brunch. Do yourself a favor and take advantage of the many culinary pleasures of Café Blue.
Café Blue Classic Seafood & Oyster Bar
(Downtown Location)
40 E 2nd St,
Austin, TX 78701
(512) 428-5796