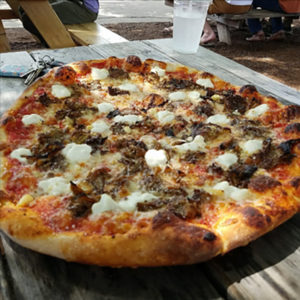 You would think its rather out of the way location would would inhibit customer discovery, but any time we've been there the place has been packed. Why? Really good Jersey pizza.
I love the aptly named The Italian. The sausage and red peppers work with onions to create a really nice mouth feel. The crust is on the crispy side with a bit of char. Another favorite is the America vs. Leon. This a white pie with sausage, roasted garlic, mushrooms, feta cheese, olive oil, and more. This is a killer pie.
Make sure to put the Little Deli & Pizzeria on your tasting list. You will not be disappointed.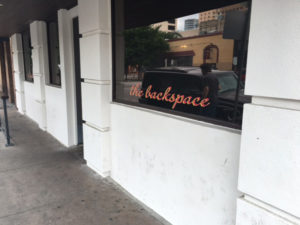 I always enjoy Shawn Cirkiel's restaurants. From Parkside and Olive and June to the more recent Bullfight, they all have a uniqueness to them.
Ditto for The Backspace, his entry into the pizza world located behind his Parkside restaurant. The best pizzas are simple, following the less is more tradition of Italian cooking. And the Fennel Sausage Pie with mozzarella, roasted pepper and garlic is a great example of that philosophy. This pizza is irresistible.
I also have enjoyed the Roasted Mushroom with ricotta cheese, tomatoes, capers and a sprinkling of thyme. These flavors dazzle the palate with their collectively subtle yet individually beautiful flavors. The Backspace doesn't have an abundance of space so don't plan on lingering for two hours. But this is a hell of a pizzeria.
While pizza may not comprise the bulk of Juliet's menu, I had to share their Cacio e Pepe pizza with you. This is a work of pizza craft.
Exec Jacob Weaver and his team took what is traditionally a pasta dish and turned it into a pizza pie with beautiful tastes. The ingredients are deceptively simple: a crispy yet chewy crust, mozzarella cheese, Pecorino Romano, and black pepper. It's one of my favorite pies around and it literally has an abudanza of flavor!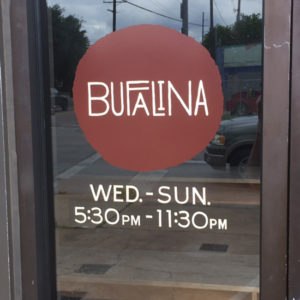 I always enjoy stories of entrepreneurs who totally pivot from their career path and come up with an entirely new game plan. Such was the case with Steven Dilley who left the high stakes finance field in New York, went through nightly tutorials by eating at NYC's best pizza joints and came back to Austin with a plan for Bufalina on Cesar Chavez.
My first taste at Bufalina was the Calabrese, which deftly mixes tomato, mozzarella, salami, Serrano, garlic and basil. Lovely pie.
Dilley has opened a second store on Burnet called Bufalina Due. He has ramped up his staff to include some real pizzaiolos and he still gets involved. It's a trifle sparse inside but I don't go to pizza places for ambiance.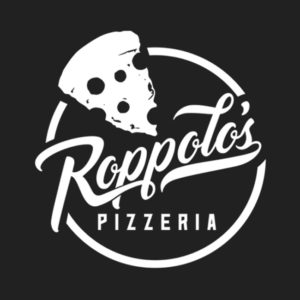 I have always enjoyed the earlier and more recent iterations of this legendary West 6th St. Pizzeria. Marc Roppolo has a terrific sense of what pizza lovers in Austin are all about, and it manifests itself in great crusts and very tasty and weighty pies like The Godfather. This is the meat lover's dream with sausage, bacon, pepperoni, beef and meatballs. It also may be one of the weightiest pies in town. I remember the day we ordered the large one and had it delivered to our S. Congress office.
The delivery guy actually had trouble making it up the stairs with The Godfather. But it was worth it. We devoured it.
The Italian Garden is the opposite of The Godfather. It's loaded with veggies like spinach, artichokes, roasted red and gold peppers, mushrooms and garlic. Very tasty!
Roppolo's is very mobile with several roaming trucks and a wide delivery range. Sure wish they delivered to my neighborhood.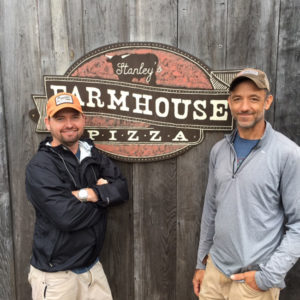 This very tasty pizza joint off Highway 290 West about six miles north of Oak Hill almost never was. Developer Chad Nemec was going to take build a condo development on Ceres Ranch adjacent to Jester King Brewery. But Chad got the pizza bug instead and so Stanley's (named after their first bull) was born.
The pizzas are damned good. I love The Dexter, which features Italian sausage, pepperoni, mozzarella, Calabrian chiles and caramelized onions, is a first bite rush of flavor. Great taste.
I also like The Penelope. This pie makes the most out of Italian speck (cured pork). Supplementing that is a liberal spray of arugula, fresh tomatoes and cracked salt and pepper. This is another first taste "wow" kind of pie.
To paraphrase an old Irish folk song: "Stanley we hardly knew ye." But I'm sure glad he was around to inspire the owners!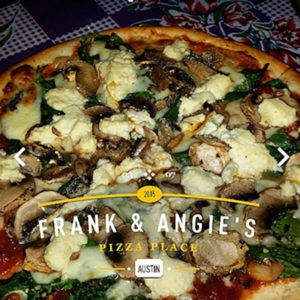 Frank & Angie's Pizzeria is another of the oldies but goodies that can be found downtown. Nightclub manager supreme Don King turned me on to this place years ago and I've been a fan ever since. Their pies are an homage, at least in name, to the world of film and entertainment. The Chairman of the Board, named after a skinny kid from Hoboken, New Jersey, is full of sausage, onions, green peppers, pepperoni and much more. Fly me to the moon and do be do be do … well, you get the idea. It's a great pizza with terrific crust.
You've got to hand it to a place that names a pie after the guy that composed the music for a bunch of spaghetti westerns. But there's the Ennio Morricone. Not sure they would have a pie with barbecue sauce where Ennio resides, but who cares. I didn't think I'd care for it but the Cajun spiced chicken got me.
It's hard not to like Lugosi's Lament. Major ingredient of course is garlic. But the entire pie works. Wonder how old Bela would have enjoyed it?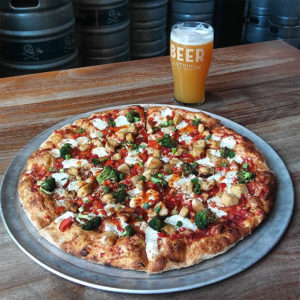 Not all of our Top 20 spots have to feature the vintage sausage, mushroom, y mas kinds of pies.
Consider the Banh Mi pizza at Pinthouse Pizza on Burnet. You want creativity and a pizza you can use Sriracha on? Well, try the house blended cheeses, crumbled sausage, jalapeños, pickled carrots and onions. And how about some cucumbers and onions? This pie will give you an idea of how the creative pizzaiolos at Pinthouse think. I love it!
Their monthly special is usually another very artistic and tasty pie. You have to have something, after all, to go with all that beer!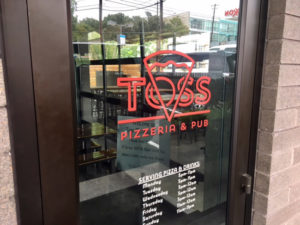 This new spot on South 1st St. is locally owned and operated and has a distinctive South Austin vibe. It was love at first bite for me. And I do still remember that first taste.
It was The Carnivore, which is a pie loaded with every type of meat one can think of. And I must have gotten them all on that first bite. That includes the pepperoni, sausage, pork and beef meatballs, chicken and bacon. Now that was a mouthful but the mouth feel was sensational.
I also enjoyed the Classic Pepperoni pie. This uses the "cup and char" technique. The pepperoni is coated in collagen allowing the slices of pepperoni to slip into a cup thereby sealing in the flavor. I was equally delighted and intrigued with this pie along with a tradition with which I was unfamiliar.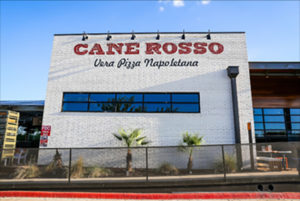 This is a chain that achieved considerable acclaim in Dallas and opened in Sunset Valley on South Lamar last year. Like so many of the newer pizza spots, the ambiance is a bit spartan but the pies (they are VPN crazy here) are very good.
We asked our server for a recommendation and she gave us a good one: the Delia. They had me at the spicy bacon marmalade, but then came the baby tomatoes, the arugula, and an impressive house made mozzarella. The crust was a bit on the chewy side and very tasty.
We tried the eponymous Cane Rosso on our next visit and we were equally pleased. The sausage, roasted peppers and onions, the San Marzano tomatoes, and again the house made mozzarella with parmigiano. Without question Cane Rosso has carved out a niche in South Austin as well.
Arrivederci
While it has been a pleasure celebrating the best pizzas in the city, we must also acknowledge some good spots that have, unfortunately, closed within the last year. I was a big fan of Due Forni on West 6th St. They made Neapolitan and Roman style pies. They have a second location outside Las Vegas.
100 Pizzitas over on East 7th St. also closed after a very short tenure.
Frank and Nina Seely's Rebel Pizza Bar on Shoal Creek also closed. It was a neat place with the walls adorned with paintings by local artists.
The always popular House Pizzeria also closed after an 8 1/2 year run. Never got the complete reason but sad to see them close.