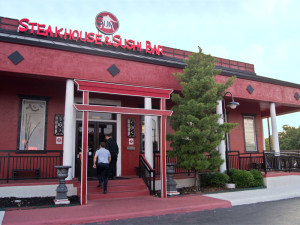 Most of us have at one time or another experienced the programmed cacophony of aTeppankayi Grill restaurant. And then it's kind of "been there done that" sort of thing.
Well I have done Sumo Japanese Steakhouse in San Antonio three times now and have yet to tire of either the experience or the food. The grill chefs are not only fun to watch with their dizzying array of pyrotechnic skills but their presentation and their food is every bit as good as the show.
We began our last visit with a variety of appetizers while the chef amused us with a wall of flame as he fire cleaned the grill. The Sesame Teriyaki Mushrooms were flat out delicious.They were fried with teriyaki sauce and garnished with sesame seeds and scallions. The texture of the mushrooms was perfect: crunchy and a bit on the dense side only made for, in my opinion, better taste. The traditional Egg Rolls were also lite and quite good. The Tempura Soft Shell Crabs were a tad off that night and the only real negative of the evening. We tried both the Chicken and Vegetable fried rice and and both were spot on. The fun part is that you can watch both take shape as you sip your Ichiban.
I must make a note on the soup. At most teppanyaki spots, the soup is usually a throw away: a weak Miso broth at best. But at Sumo the soup had a serious bit of mouth feel: redolent of a good Udon broth. I drained my bowl and actually asked for another!
We were then treated to the traditional flaming onion volcano. Only difference was ours erupted like Vesuvius. Flame and bits of salt virtually exploded in the dim light. Best one of these I've seen! Bravo.
Marge and I both ordered the Shamoo's Choice which consisted of scallops, shrimp and lobster. In the hands of a less-than-accomplished chef these could have turned out dry. But coaxed along with a bit of lemon and butter and the requisite amount of heat, they were moist and tender and went perfectly with the grilled veggies. Another table favorite was The Alamo. This was a NY Strip grilled to your preference with a side of shrimp. Again, execution was flawless and the tastes were pristine. I also had a taste of Tony's Sumo Rib-Eye steak. Also came out exactly to his medium rare specifications and the flavor was searingly spot on.. The steaks at Sumo are all USDA Choice Black Angus and the chefs know their way around these cuts.
We were so pleasantly stuffed at that point that we had difficulty pulling our chairs back at the chef's request. But there was yet another dazzling pyro moment to come. This time it was with flaming salt and pepper shakers and our guy [lucky for him] had it down cold. Roaring conclusion to a terrific meal.
Sumo is an easy drive from Austin and one that all area teppanyaki fans should consider making. Most definitely, we'll be back for visit number four!