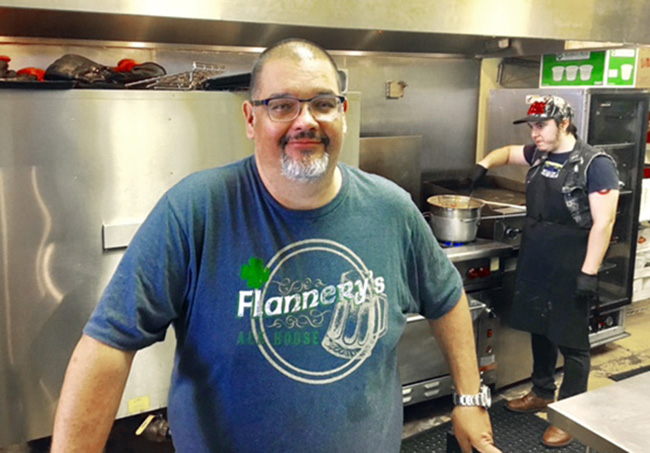 Sometimes the story behind a restaurant is as interesting or more so than the food itself.
Such may be the case with Big Cat BBQ in Cedar Park and its founder James Jones.
I first met James about a month ago when we joined KEYE meteorologist Chikage Windler and her family at Big Cat for lunch. James is a big, jovial man and he seemed like the perfect kind of guy to be dishing up really good barbecue. But as I learned there is much more to the story.
James is from Cuero, Tx which is just north of Victoria. As a kid, he was fascinated with the alluring aromas of smoked meats from neighbors' grills and pits and became a lifelong barbecue fan. He learned what a well-cooked brisket tastes like and decided he like his Q without an abundance of sauce. Like many people who went on to open barbecue joints, he competed in weekend barbecue cook offs.
But his real calling was to service, and when he found he was too young to begin police training he enrolled in an EMT program and fell in love with the idea of being a paramedic. He went on to become one of only a few techs with helicopter certification. He later opened a clinic near Kennedy, Texas and was in the process of picking up a generator for the clinic when he had a career changing incident.
As he was lifting the 120-lb generator onto his truck, his hand slipped and he inadvertently twisted his torso to keep the generator from falling. He immediately felt a pain in his back that got worse throughout the day. The next day the pain was debilitating and worse still, he started losing feel in his lower extremities. He contacted a neurosurgeon friend in Austin and went up for an MRI. The doctor diagnosed James as having cauda equina, a rare compression of his vertebrae. He underwent a three-hour surgery the next day. The surgeon was fearful that James might never be able to walk again.
But astonishingly the nurses got him out of bed the next morning and was able to walk with a stroller. The rehab was a slow and painful one. He realized that he would have to give up the clinic. And so decided to teach high school biology. He needed a few additional college courses and as he began that process, an unfortunate fall left his ankle broken in three places.
This terrible run of bad luck might have caused many lesser men to just give up. But James is no lesser man. He talked to his wife Melissa and convinced her that Cedar Park needed a great barbecue spot. She reluctantly agreed and as soon as his ankle healed (even though he was still bothered by the cauda equina) he cooked up a mess of barbecue for a Cedar Park business exposition. His Q was a huge hit!
James opened Big Cat BBQ two years ago at the former site of a Dickey's Barbecue Pit at 401 Whitestone Bld. His initial plan was to open from 11-4, but the popularity of his product changed the plan. He got so much feedback from would-be customers who couldn't make it by until 5 or 6 that he changed the hours from 11-8!
He still has trouble standing for any great length of time due to the cauda equina, but that has not deterred him. He's trained a good staff and he just got a new pit made for him by his brother-in-law. Discomfort may have slowed James down a bit but his resolve to properly feed the folks of Cedar Park has not been at all tempered. Stay tuned for my upcoming review of Big Cat!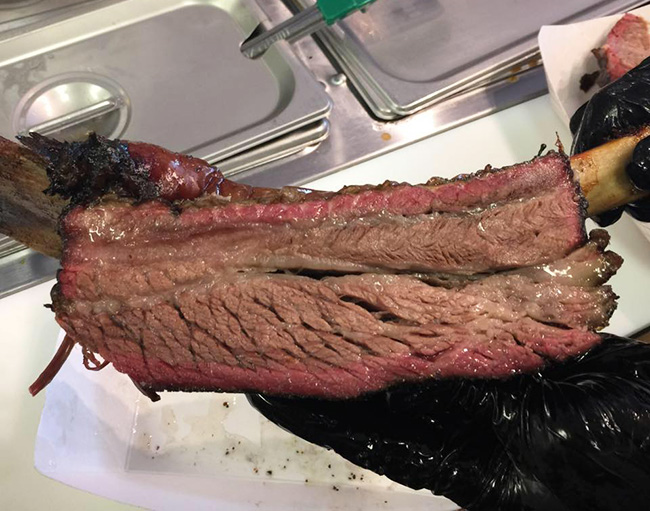 A truly impressive beef rib from Big Cat
Big Cat BBQ
401 W Whitestone Blvd, C-100
Cedar Park, TX 78613
(512) 986-7032