There's been a lot of buzz about the Italian-styled Red Ash Italia over the past year. Of course, as is my style, I'm never the first to rush in the door. I like to wait for a new restaurant to settle in so the back and front of the house have time to get in sync.
Hence our recent visit to John Carver's Red Ash was right on schedule for yours truly.
The place was packed on the Friday night we went. Unlike some of the other new restaurants, the demographics of the crowd was mixed: older baby boomers mingled with Gen Xers and a healthy sampling of Millennials. This was in marked contrast to a recent visit to equally new Old Thousand where Marge and I were at least 20-30 years older than any one else in the place.
As you walk in, there's a huge bar that dominates the downstairs. In fact, from a utilization of space perspective, it may be a bit too big. This causes a logjam by the front door when the place is crowded.
We were seated upstairs at a four-top at the top of the stair case. Service was prompt and in minutes we were looking at an order of their house-made crispy Italian bread. This was irresistible and as advertised. It was crunchy but laden with layers of olive oil butter, garlic and grana. This is not the usual run-of-the-mill obligatory restaurant bread that one often sees; rather it is listed on the appetizer menu at $2.50 per person and it should be! Absolutely delicious and it served a further purpose which we shall get to momentarily.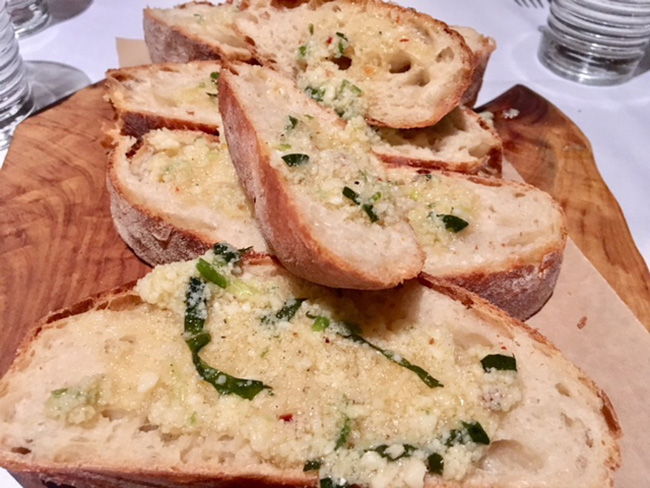 House-made crispy Italian bread
That brings me to the Small Clams Oreganata. Being a New Englander, I've had many versions of this dish and Red Ash measures up. The clams (vongole) are baked and and coated with a savory layer of garlic, spices and grana crumbs. This dish rocks! And here's where the bread comes in. The best part is dipping up the remaining juices from the clams.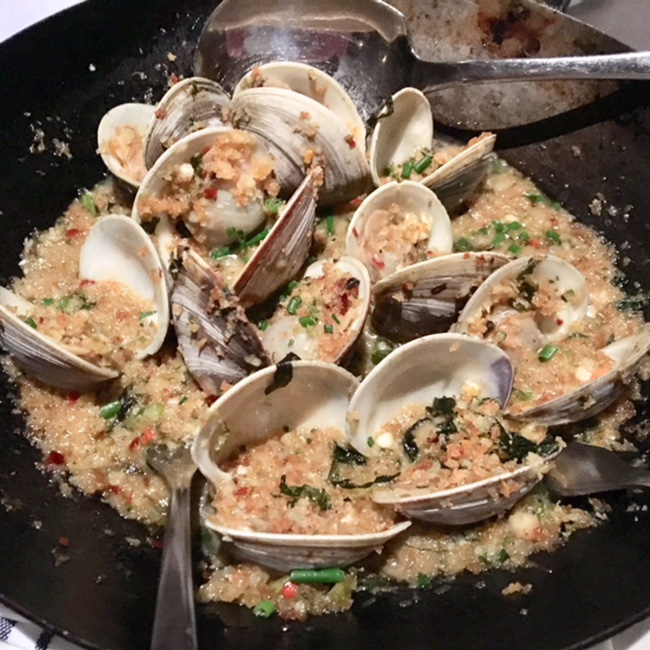 Small Butter Clams Oreganata
Several of us ordered the Frutti de Mare which is similar to a Cioppino. Carver knocks this dish out of the park. He blends black and white spaghettini with lobster (the cold water kind), along with clams, mussels and shrimp and a lovely sauce of crushed San Marzano tomatoes . The first bite is redolent of a savory seafood flavor nestled in among the more subtle tastes of the al dente pasta. It's a bit pricy ($34) but in my opinion, worth it.
Pasta fan that I am, I ordered the PapparAdelle alla Bolognese which utilizes wild boar for the meat. The dish arrives with impeccable presentation and looks irresistible. But then, the evening's only blemish. The first bite was surprisingly lacking in seasoning. I rarely if ever use salt. But I had to ask the server for some. I sprinkled it on and voila, all was well. Puzzling that a dish of this pedigree would arrive with such an obvious need of seasoning. But after the alteration I pretty much forgot about the problem. And Chef Carver was off duty that night.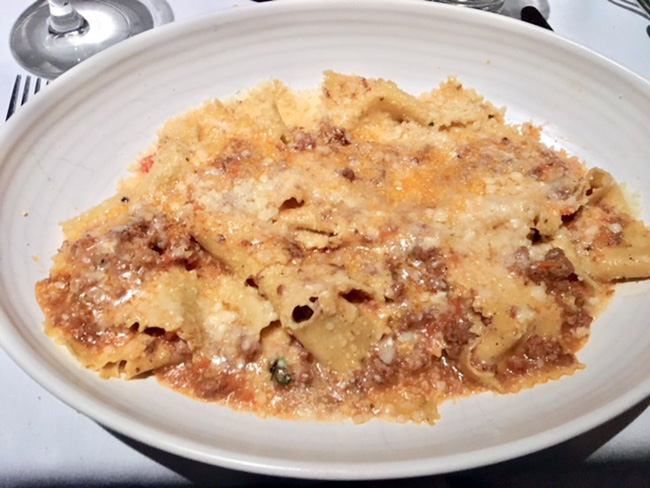 Red Ash's PapparAdelle alla Bolognese

The Tiramisu was a great way to wind down the evening. It was exceptionally smooth and creamy and not overladen with rum as can often be the case.
We couldn't possibly properly taste enough of the menu to render a full verdict. But we had enough to know this place has game and is settling in as one of the finer Italian restaurants in the city.
Red Ash Italia
303 Colorado St #200
Austin, TX 78701
(512) 379-2906