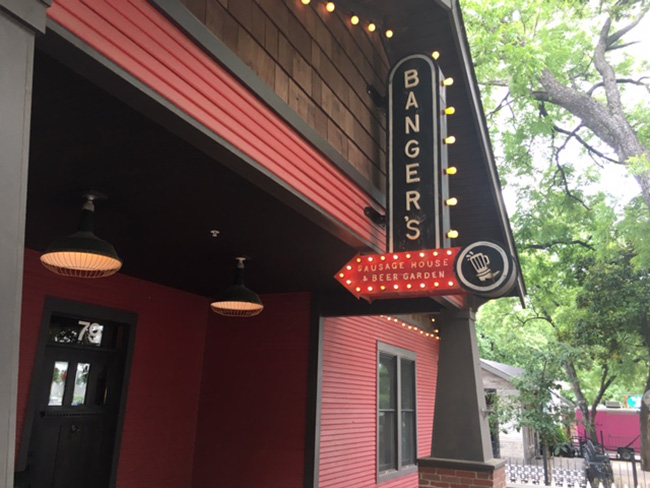 Austin has a lot of unique restaurants with great back stories and Banger's Sausage House & Beer Garden is one of them. Founder Ben Siegel does not come from a food background but that didn't deter him from following his vision to Rainey Street and putting together one of the most popular gathering spots in the city.
He learned the craft by literally interning at a friend's place in California and piece by piece began to evolve the menu and the massive selection of over 100 craft beers. Five years ago Banger's opened and several years later the last link in the puzzle was connected when seasoned pro Brian O'Neill joined Ben's team. And the emphasis is indeed on team. Beers are chosen by a committee of staffers and you can sense that tightly knit vibe from every server in the joint.
We sampled quite a few items on our visit. We began with the Poutine, a classic French Canadian dish featuring pommes frites along with a classic brown gravy and cheese curds. These were delicious and will be afforded must order status on our next visit.
Then we tried the jalapeno creamed corn with a baked onion gratin as well. This is a beautifully constructed dish. That night it lacked the proper seasoning, but that's an easy fix. The concept is sound.
We also tried the jar o' pickles which featured vinegar based spicy pickle spears that were absolutely crunchy and spot on. I am a pickle lover and these were worthy of affection.
Next came the bratwurst, served on a sweet roll. All the sausage served at Banger's, over 2,000 pounds per week, is made in house. So if you're looking for typically processed stuff, you will be disappointed. This is the real deal and each sausage varies in taste and particularly texture. The brat had a searing flavor that I wasn't expecting and a grittier texture than I'm used to. But it worked for me. I absolutely loved it.
The classic hot dog, smoked and made from beef and veal was also quite good. My hard-to-please wife liked it and that's quite an accomplishment. She, as I did, found the rolls to be terrific. And that's a must if you're serving sausages.
The imaginative menu took me down to the what proved to be my favorite sausage of the night. The Dak Bulgogi was a flat out blast of flavor. This was bulgogi chicken sausage and the inventive soul who came up with the toppings should receive a medal. Served on a kolache roll it was piled high with kimchi, cilantros, oyster sauce and cilantro. And, of course, topped with Sriracha! On the side came a kimchi salad, and an amazing melange of sun-dried shrimp chips and soy caramel.
There are many more wildly creative sausages at Banger's, too numerous to mention in this first review. At most sausage places you get bratwurst, knockwurst, hot dogs and perhaps Italian. Banger's completely blows away this notion. (The day after we went they planned on serving a whole pig.) They've even got a sausage made from red and yellow beets, walnuts and goat cheese. We'll save that for the next review.
And let's not forget their "wall" of craft beers (these are chosen by earlier mentioned committee). Ben recommend a dark IPA. As a rule I don't care for dark beers but this one was a great choice and paired nicely with the sausages. And that leaves 99 more to try!
We finished with a chilled confection featuring chocolate ganache atop vanilla ice cream and butterscotch. Absolutely delicious and was a bargain for $5. In fact nothing on the menu at Banger's is priced over $10.
They are preparing for a massive expansion which will occur in what was the parking lot just north of the restaurant. From what I've seen thus far they're gonna need it!
Banger's Sausage & Beer House
79 Rainey St.
Austin, TX 78701
(512) 386-1656