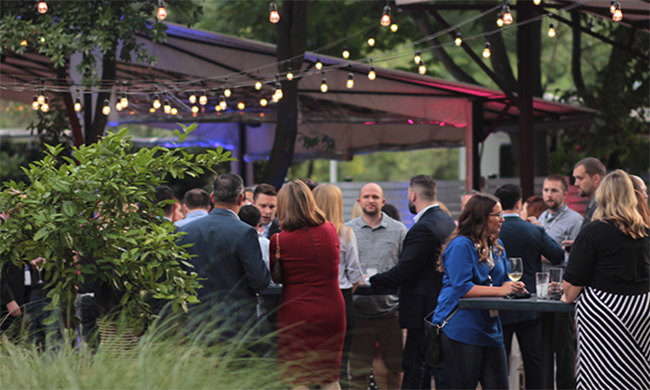 This is the season when a disproportionately large number of dining and social events are booked at restaurants. To give you some perspective we thought we'd provide our readers with a brief tutorial on how to make your event successful. We've focused on Juliet Italian Kitchen because they have a very efficient and appealing program.
The first and most critical link in this process is the event planner at the venue. Emily O'Connor fills this role at Juliet Italian Kitchen and does it quite well. Most restaurants offer a complete range of packages and menus depending on the size of the party. This is where a planner like Emily can be invaluable.
Many people have a problem visualizing the size of their group relative to the room they're looking at. Your planner is critical in this mode. She knows the realistic numbers the room can accommodate including allowing for how the food will be served (standing/sitting) etc.

Juliet is typical of a restaurant that has done a good job of menu design. For example a group of 25 may reflect a lot of taste preferences. This is where an experienced chef like Jacob Weaver gets involved. Here's a typical lunch menu for a group priced at $25 per person plus tax and service:
Antipasti, Salad & Soup
Caprese Bruschetta
Today's Mozzarella
Chopped Caesar
Tomato Basil Soup
Entrees
Grilled Salmon Salad
Grilled Chicken and Arugula
Cheese Ravioli
Spicy Rigatoni a la Vodka
The variety in the above menu is the key. Always look for that.  A diverse number of tastes are catered to so there's something for everyone. The ability for a restaurant to offer this kind of flexibility is paramount.
Most larger restaurants can accommodate big groups up to a complete buyout of the entire restaurant. (Many restaurants prefer to limit this to a day or two per month so as not to inconvenience regular customers). Also if you're looking for a buyout take some additional time in the planning process.
In pricing events, numbers are very important. Try to book a room that is designed for the number in your party so that you maximize your budget. In most cases there will always be a minimum fee (understandable) that is nonnegotiable.
For the coming season Emily tells me that December is rapidly filling up. So don't delay. But always bear in mind what we've discussed above.
FAQ. Are prices negotiable?
In some cases where there are large groups this may be possible but most restaurants are fairly tightly budgeted. The best time to negotiate is when the venue has more openings than they would care to see.