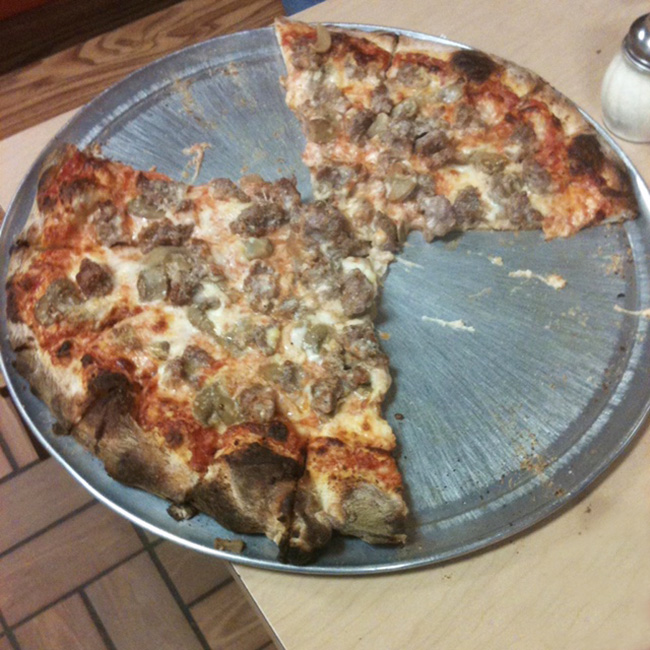 It's hard to believe that this is our 17th year of Pizza Wars. Austin has turned into a world class city in the interim and the local pizza scene has evolved from a chain-driven environment to literally dozens of owner operated places.
Given my background of growing up in the pizza rich environment of New Haven, Connecticut, readers always assume that my default position is toward places that offer east coast style Neapolitan pies. While I may have a bias in that direction I've come to realize while tasting pizzas all over the country and even in the Mother Land of Italy that there is no single perfect pizza.
Some pizza fans prefer a thinner crust, others like a chewier crust, while crispness and char dictate the choices of others. There are an abundance of ways to make a marinara sauce and the same applies to mozzarella cheese and all the minor variations on those themes.
I've also found that Naples' VPN Certification is far more important to Pizzaiolos (pizza chefs) and owners than it is to customers, many of whom could care less about its precise rules for making a "true" Neapolitan pizza.
So again, as you read this year's choices, realize that they are tied to my preferences. But no restaurant was eliminated from consideration because they lacked VPN certification.
Also last year we wrote about virtually every pizza joint or restaurant that served pizza in the greater Austin area. This year we're narrowing things down a bit: first to the Top Ten list or in my opinion the very best pizzas, then the second ten ranked 11-20. All of these places are great and I urge you to try them all. They represent a wide variety of styles. Some are classic Austin spots. There are also brand new restaurants on my list. We'll end the piece with a brief post mortem on some favorite spots that closed in the past year.
THE TOP 10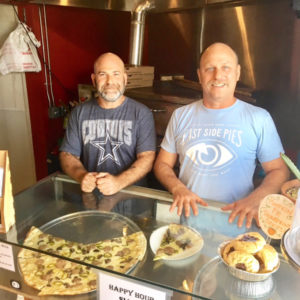 East Side Pies first opened in 2006 and is the product of a collaboration between owners Michael Freid and Noah Polk. They have small stores on Airport, Anderson and Rosewood. But these are two creative guys who have 51 specialty pies on their menu. And these pies are indeed special. I first heard about East Side from some kids standing in line at SXSW some years ago. I've been a huge fan ever since.
There are no rules at East Side Pies. Just one: it had better taste great. Their crust is on the thinner side and their sauces are beautiful. They have a pie called The Sarge which uses EVOO and Italian sausage, cherry tomatoes, fresh mozzarella and basil. Another no rule favorite is Pacman which uses pulled pork, a sweet potato curry and jalapeños. I love this pie. I love these guys and their passion for pizza. So welcome East Side Pies to our new #1.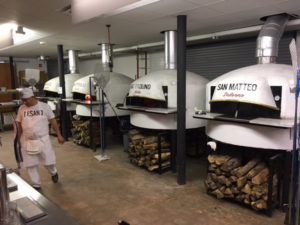 This is a bit of a stunner for Pizza Wars. Jimmy Fitzgerald, who also operates the Austin franchise of Bob's Steak and Chophouse, has hit a homerun with his new DeSano on Burnet. He imports his flour, olive oil, and virtually everything else from Italy. He uses four gigantic ovens and turns out some extraordinary pies. You must try the San Gennaro which has quickly become one of my favorite pies in the city. The crust is crispy yet chewy with the requisite char. The Peppadews, sausage, and caramelized onions along with the Buffalo Mozzarella combine for a killer pie and has ushered DeSano into our top ten.
You can tell this is a legit pizza joint the minute you walk in the door and the aromas seductively sneak up on you: like the Sirens calling to the Ancient Greek sailors.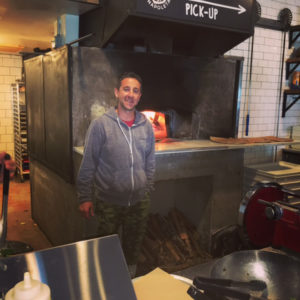 I still love Pieous. They've come a long way since Josh Kaner first introduced himself to me at the new HEB in Dripping Springs and told me of his plans to open a new pizza joint on Highway 290 West.
They have been #1 in two previous Pizza Wars and are looking forward to opening a much larger place in a new center being developed on 290 closer to Dripping Springs. They are packed most nights and should be. Love their Bacon pie (one minor complaint would be I'd like a bit more crispy crust) and don't ignore their moist pastrami. It's the best in town. Their pizza pies have excellent flavor and I can't ever envision them not being in the top five.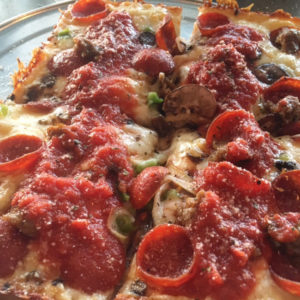 From a small truck on the East side, Detroit-style Via 313 Pizza has expanded to two brick and mortar locations on William Cannon and 290 and on Guadalupe along with a 2nd trailer on Rainey.
If you are unfamiliar with Detroit-style pizza it is a square pie (very common in Midwest) with caramelized cheese crust and sauce on top. All of the traditional toppings are available. It resembles Chicago-style deep dish. In case you're wondering what the 313 means it's simply the area code of Detroit.
Their pizza is damned good and it reminds me of my days in Ann Arbor when we used to head to Detroit for pizza. My favorite is The Detroiter, which features smoked pepperoni under the cheese and natural casing pepperoni on top. The result is a crispy confluence of Sicilian based goodness. When they opened their first dine in store in Oak Hill, long lines snaked out the door and around the parking lot. The founders, Zane and Brandon Hunt, must have been (and probably still are) delighted.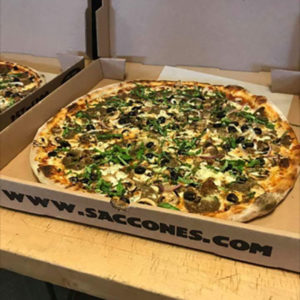 Dan Saccone began making Jersey-style pizzas in North Austin when his major competitor was Mr. Gatti's. Now that takes us back!
Saccone is a serious Pizzaiolo who makes terrific pies. He has won competitions at the National Pizza Association convention in Las Vegas. And he deserved every award. I love his Sausage and Cheese pie with his special sweet sauce and his wonderfully complex crust. You simply have to taste it. The White Pie with ricotta and Mozzarella cheese (sans sauce) is also a killer! This has been one of my go to spots for years. Still is!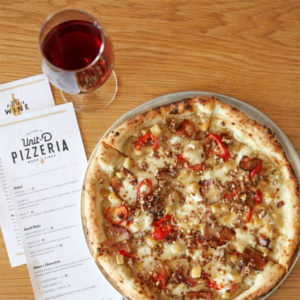 I really like this place on Manor Road. It's a bit sterile looking for my idea of a pizza joint but we'll overlook that. It's called Unit D because the developer of the complex reserved the last unit for herself. They invested in an Acunto Mario oven from Naples and I'll tell you what, with the beef they get from neighbor Dai Due they are cranking out some serious "za".
My favorite pies are the bacon and apple and the peppers (the guanciale, white sauce and sweety drop Peppers seal the deal here). There is a sense of the artisanal about this place and it just knocks everything out of the park, including the charcuterie plate (technically off limits for this piece but I couldn't resist).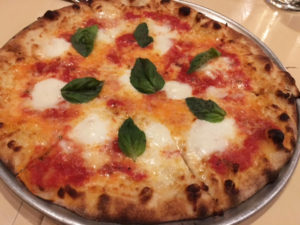 This little joint on 2nd street is cranking out some amazing pizza. Bernardo Nolfo and his partners are all from New York by way of Italy and I love their work. They approach the art of making "pizze" with the same passion with which they tackle everything else in this charming restaurant.
I love their Diavola pie which features tomatoes, mozzarella, and spicy salami. It's classico! And the Rustica is another delightful pie with tomatoes, mozzarella, sausage and peppers. The crusts are on the crispy yet pliable side. The eponymous Numero 28 is a white pizza with speck, mushrooms and a truffle cream sauce that absolutely dazzles.
Everything in the pizza category at Numero 28 is reminiscent of old world sensibilities and they deserve to be in the Top 10.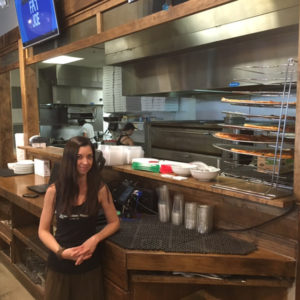 Yes I am partial to CT pizza and Michael Dinsmore has delighted me for years with his Hartford influenced pies first on W34th and most recently on Rainey St and Rock Rose at The Domain.
Their Bacon Pie just slays me and I love the Sausage and Mushroom with Jalapeño.It's the only pizza joint in the city that truly reminds me of the legendary aromas of Pepe's in New Haven. Their white Clam Pizza with fresh whole baby clams is the best example of this hard-to-do pie in the city. Salvation is part of the old guard but love to see how they've evolved. They are truly a Top 10 pizza in every sense of the word!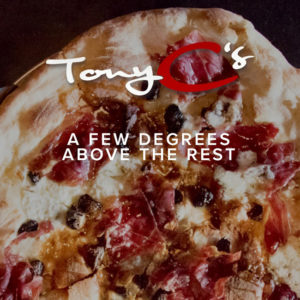 In this era of VPN obsession, it's nice to have a classic brick oven coal burning pizza joint that marches to its own beat. No pecan or oak logs here. And coal gets really hot. It takes time to master the art of coal fired pizza making.
Tony Ciola has got it down. His first Tony C's opened to enthusiastic (mine included) reviews and his second store in Avery Ranch is doing quite well. I first tasted The Donato and found it delicious with sausage, olives and coal fired peppers. I still love it. And I still love The Mama Mia with the two key pizza toppings, sausage and Pepperoni.
They also make a very nice pie with an Eggplant Parmesan.
The fact that Tony C's has dropped a bit in our rankings from previous Pizza Wars is in no way an indictment of their quality. There are a lot more serious players out there and just being in the Top Ten is a major accomplishment! We still love 'em!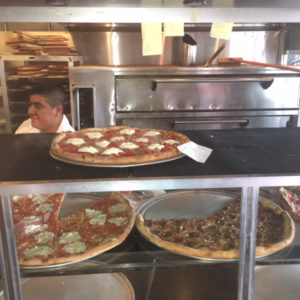 This place on S. Congress has got legions of devoted fans and for good reason. They make excellent New Haven/New York style pizza. And to the delight of pizza fans in North Austin they are adding a new location at 501 E 53rd scheduled to open soon!
I am a creature of habit when it comes to Home Slice so I always go for the Sausage, Ricotta Cheese and Roasted Pepper pie. Great crust with a little char and killer flavors. And of course there's the Pepperoni and Mushroom, a vintage pie that has stood the test of time. And their Clam pie keeps getting better. Almost a toss up with Salvation's. My only very minor gripe is that the menu is too expansive. You're a great pizza joint. Why not stick to just pizza? That's all Pepe's has had for years along with clams on the half shell and drinks. Of course this argument could be made for other Austin pizzerias as well.
Click here to see the 11-20 top pizzas