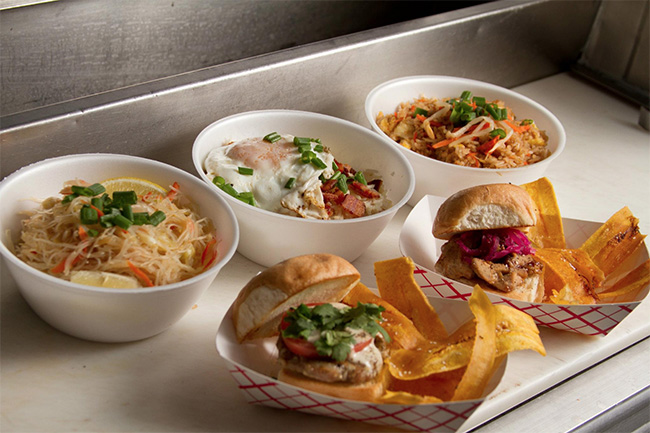 For years now I have been bitching and moaning about the city's lack of great Filipino cuisine. Nothing against Mang Dedoy but it's a store with four tables. I used to love dining at Goldilocks in Las Vegas which is a terrific Filipino restaurant and bakery. I even asked the owner, Mandrei, if he would open one in Austin.
But now, finally, street truck owners Mark Pascual and Giovan Cuchapin have delivered unto us a brick and mortar Filipino restaurant on Shoal Creek worthy of this terribly overlooked cuisine. The clever name is Be More Pacific Filipino Kitchen and Bar.
Filipino cuisine derives from a number of influences: Spanish, Chinese, and Maylasian to name a few. A good example of this would be the Lumpia, or Filipino egg roll. The Lumpia has a much thinner crust than the thicker Chinese egg roll and does not, ironically, use an egg in the preparation of the crust. It is light and delicious and Be More Pacific has a great selection of Lumpias.
They also offer up a number of great Pancit (Noodles) dishes such as the Chicken Bihon with rice noodles, cabbage, carrots, onions and other goodies.
The Adobo is another treat which features quartered chicken legs in a killer marinade of of soy sauce, vinegar, pepper and garlic. And the bacon fried rice is to die for.
The Tosilog is another beautiful dish which mixes sweet and savory pork, garlic rice, green onion garnish and egg. Now this is Fillipino cuisine and I for one am delighted to see Be More Pacific in Austin.
Be More Pacific Filipino Kitchen and Bar
7858 Shoal Creek Blvd Ste. C
Austin, TX 78757
(512) 814-7423