The space at 1000 East 11th St. has been home to several local restaurants that have had to close. But as current occupant Old Thousand approaches its first anniversary, that fate does not appear to be in their cards, at least not based on what we tasted and observed on a recent Friday night.
The restaurant takes a basic Chinese foray into a slightly unusual yet quite rewarding culinary journey. My first taste was the scallion cake, something I've always admired when made well but with just a few exceptions (Street and Wu Chow) have been unable to find on a regular basis in the Austin area. It had a fiery back bite due to the chili sauce, but the flavor and texture was spot on. They'll provide you with a milder sauce if you ask, but far be it from me to consider such a thing. The heat ramps up the delicate cake to evoke a maximum crispness and beautiful mouth feel.
What can I say about the Kung Pao Cauliflower? It looked terrific and tasted better. The brown sauce snuck up on me and suddenly I was immersed in a melange of the crispy cauliflower with peanuts and cashews along with shishito peppers and a surprisingly satisfying range of flavors. We doubled down on this dish and were even considering a third pass.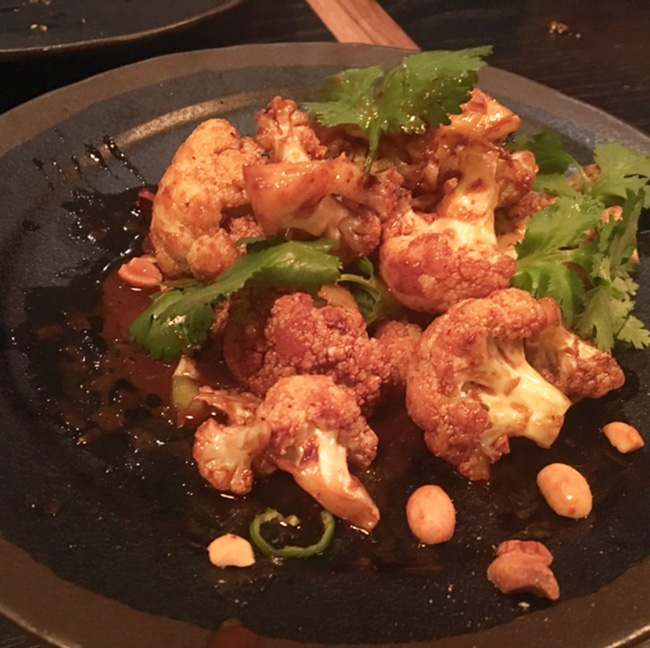 Old Thousand's Kung Pao Cauliflower
We then tried the crispy wontons which were indeed crispy but that was about it. The flavors of the shrimp and pork were overwhelmed by the crispness and I got no real pleasurable tastes from this. It was surprising after the fire power of the first two dishes.
Ah well, not to be deterred I moved on to the hot and sour soup which lived up to its name. It was quite hot and my wife had a hard time getting past that. I had no such problem. Yes, it was hot but the heat did not deter from the sourness that really makes this work. I enjoyed it! Side note: my ice cold Tsingtao beer went perfectly with this dish.
We then headed toward the entrees beginning with the brisket fried rice. Talk about local sourcing! OT uses neighbor Micklethwait Craft Meats for this dish and it lights it up. The combination of Micklethwait brisket and jasmine rice was very appealing. This is an aromatic homage to the Q lovers in Austin. And I was quite impressed.
I had to try the Dan Dan Noodles and I was not disappointed. They bring the lo mein wheat noodles in a bowl along with mushrooms, bok choy, a soft egg, and chili relish and the server mixes it up for you at the table. Each bite was a palate pleasing affair with almost orchestral presence. Far and away the best of its kind in the city!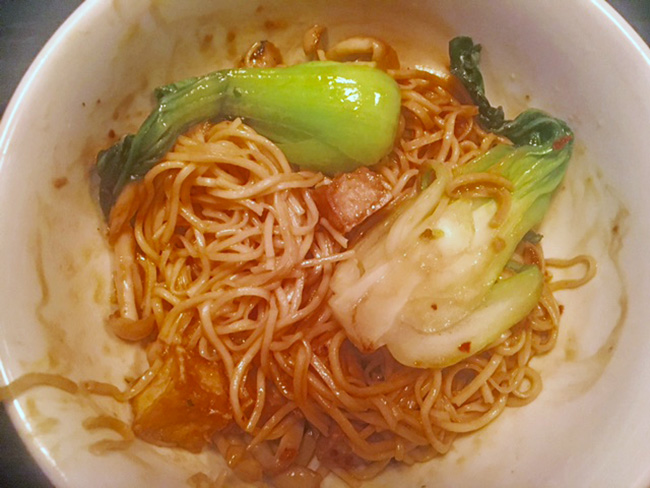 Old Thousand's Dan Dan Noodles

My wife was looking for something milder so she tried the veggie fried rice. She got her wish: it was by far the least incendiary dish on the menu. But it had lots of subtle flavors and was very pleasant. I would not have ordered but she quite enjoyed it.
We finished with several orders of the perennial dim sum favorite: the sesame balls with red bean filling. They were a bit crispy and possessed of beautiful flavors.
On the night we dined there Old Thousand was noisy and boisterous and filled with Millenials. This is Austin after all. But the place has a very enjoyable ambiance. Old Thousand takes its name from a Chinese slang for hustler or the long con. With only a few minor blemishes to mar an otherwise delicious evening, they can hustle me all the way to the bank.
Put me down as at least a semi regular patron.
Old Thousand
1000 E 11th St.
Austin, TX 78702
(737) 222-6637