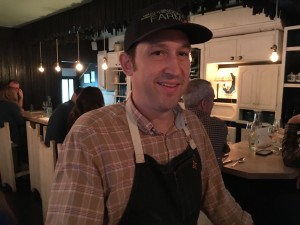 I always had at least two reasons to enjoy the fare at Trio: Exec Chef Elmar Prambs and Sous Chef Todd Duplechan.
Well Todd moved on [as all great sous chefs do] and with his wife started a restaurant on S.1st called Lenoir. This little 32-seat restaurant has a farm-market philosophy with French influences. And the cuisine is nothing short of sensational.
Most nights feature a traditional pre fixe menu with three courses for $45. Hell of a deal if you ask me. On our last outing the chef sent out a beautiful circle of spaghetti squash that served as a terrine of sorts for a chilled soup made of uber fresh root vegetable tops. It's not on the menu yet but hope it shows up because it was astonishing.
We then tried the a Smoked Ricotta Ravioli that was rich and tender with sensational mouth feel. The sauce was beautifully subtle and the pasta appropriately al dente. The accompanying charred greens were an unusual but nice complement. For a small dish, it packed a wallop as it was very filling
Next up was a Green Curry Gumbo. This was remarkable. The roux was on the lighter side but still had that characteristic flavor. The traditional Andouille was there but creatively made from ground fish instead of sausage. Exceptional taste and more vegetables than one normally sees in a gumbo. The octopus was tender and tasty but perhaps a trifle too large for the dish. Minor point though.
Then came one of the most delightful pieces of Redfish that I have had in some time. It was seared with a pepper sofrito and classic [nut and pepper based] Romesco sauce. This was another show-stopper from the Duplechan's storehouse of creative ideas.The skin was crispy and a perfect foil to the tender flesh.
Another great dish was the Roasted Quail which was as mellow and tender as any Quail I've tasted. Try to imagine a melange of ginger sweet potatoes, mole, braised greens and pecan granola and you'll get an idea of the total flavor profile surrounding the quail.
If that weren't enough we tried the Onion/Sweet Potato bread with a garlic spread. The serving was relatively small but delightfully dense: so much so that I wound up taking half of it to go [where it toasted up beautifully the next day].
The menu varies weekly at Lenoir and is presented in four groupings: Field [including vegetable dishes and soups] Sea, Land [where some meats come in] and Dream [appropriately named for desserts]. You can mix and match to your hearts content. The table next to us ordered exclusively from the Dream menu. [Hard to fault them for that]. But you get the idea.
Lenoir bills itself as serving Hot Weather Food. It's hot in Texas so the dishes by design are lighter, with very little butter, cream or glutens. Works for me. We were pleasantly full when we left but not stuffed to the gills. Lenoir is closed Mondays and open from
5-10:30
each night except
Sunday
when it shutters at 9.