If anyone deserves a day of nice dining and relaxation it's your Mom! So here are some suggestions for brunch around Austin this Mother's Day.
The Oasis
Best view in the city. Charming restaurant with the perfect menu for all those beleaguered moms. Here's their menu.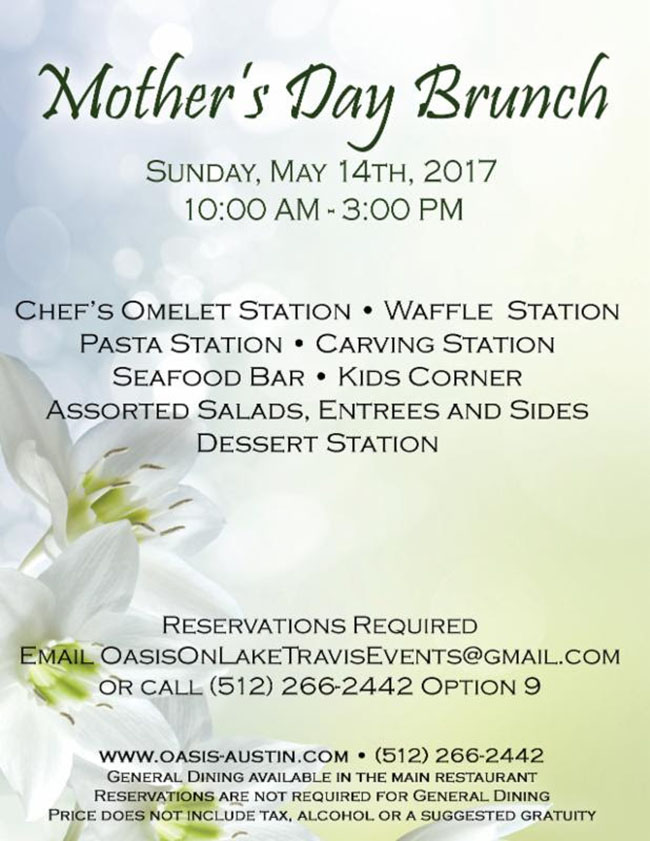 Mattie's at Green Pastures
Green Pastures was a brunch staple in its old incarnation, now it's renovated and reopened as Mattie's. Mom will love the new design and the menu.
Café Blue Classic Seafood & Oyster Bar
Both stores at the Galleria and Downtown have got mom covered from 9-4. Click on their menu and look at the great feast that Chefs Ben and Chelsea have prepared. We'll see you there!
Russian House NaZdorovye Restaurant Bar & Bistro
This is an authentic Russian restaurant on E 5th and they know how to properly celebrate Mother's Day. Varda and Vladimir will delight mom with a dazzling array of Russian favorites. Try this one out!
Trio
At the Four Seasons hotel, Trio remains the quintessential weekend brunch restaurant in the city. Elmar Prambs and his fine crew keep upping their game to the point where it's hard to imagine how they could get any better. But you know they will! Book now.
Hoover's Cooking
The dean of Southern comfort food will have a corset-busting menu for mom, with delicious food and lots of it. Hoover is a force to be reckoned with in the Austin food community and this Mother's Day may just be the best.
Eberly
Chef Jim Trippi has worked his magic on this South Lamar newbie and the ambiance is spectacular. One of the most gorgeous new restaurants to hit the scene in a long time.
The Gnarly Gar
Austin's only totally on the water restaurant off of Point Venture will be catering to moms all day long with Maine lobster, fried clams and some of the best burgers you've ever tasted. Owner Todd Hynes is a congenial host and his newly acquired chef from Kerbey Lane rounds out a powerhouse staff.
Cannon & Belle Tex Fresh Fare
We just reviewed them and they passed with flying colors. Great new restaurant at the Hilton that replaced Finn and Porter. Brunch will be from 10-2.
Fixe
A great downtown upscale Southern cuisine restaurant under the impeccable tutelage of Chef James Robert. It's a beautiful spot with equally wonderful food.
Emmer and Rye
One of our Top 25 restaurants, chef Kevin Fink has recovered just in time from wowing the audience at the Austin Food and Wine festival to delight mom with a Brunch from 10-3. I adore the creative process on display at this restaurant every day and rest assured, so will mom. On Rainey St.
III Forks Best Prime Steakhouse
Mom will love the sophisticated atmosphere of this restaurant. In our Top 25 and the BEST steaks in the city. Brunch from 11-8 with a special three course fixed menu for $49. A la carte dining options are also available.
Dai Due
Every bite of every dish at this Manor St. eatery is a veritable work of art. Brunch will be from 10-3 and my only regret is I can't make this one. But your mom and the gang can. So what are you waiting for?
Estancia Churrascaria
Estancia Churrascaria means "house of meat" in Brazil. In Austin, it means a fantastic Mother's Day Celebration at the Arboretum. Proprietor Ironi is a Fogo de Chao alum and he's got a spot that is every bit their equal but LESS expensive. $49.95 per person and if you're familiar with the concept of espeto comido (you know, with the green card that as long as it's turned up they keep bringing you more) you'll know what a great deal this is.
Oasthouse Kitchen and Bar
This little gem from Amir Hajimaleki in the Four Points area will serve Brunch from 9:30 to 3. Their food is quite good with an upscale comfort theme. Their sister Restaurant The District on Escarpment will also be doing a typically wonderful brunch as well.