We wrote in an earlier post the process by which Juliet Ristorante became Juliet Italian Kitchen. Today we're going to dive a little deeper into the new dishes that resulted from that transition. A big step in the makeover was to steer the cuisine toward more traditional Italian fare. For the most part Chef Jacob Weaver has done exactly that.
We began with a delightful Salmon Crudo which is one of the few holdovers from the old menu. "Crudo" means raw in Italian. But the Salmon Crudo differs from Sashimi in that it's coated in olive oil and lemon. I can see why they kept this one! Delicious.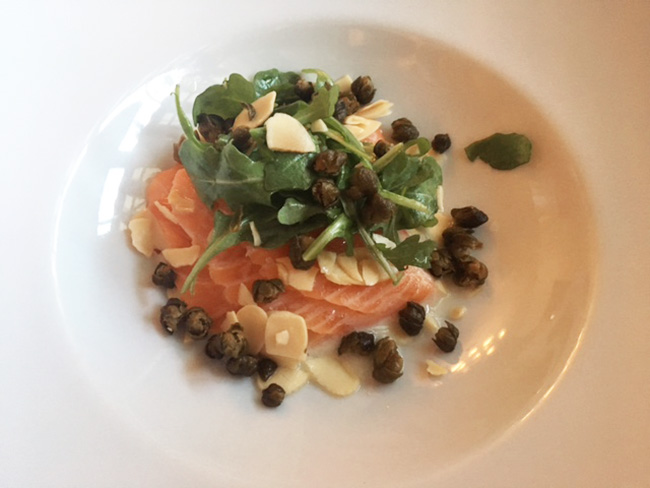 Juliet Italian Kitchen's Salmon Crudo
Next up was Weaver's take on a classic: Shrimp Scampi. Juliet's version was a study in buttery garlic sauce that had a bit more depth to it than one usually sees. They served it with baked bread infused with butter that was perfect for dipping. The result, aside from the plump and tasty shrimp, was a dish awash in a wave of flavors that was returned to the kitchen without a trace of the sauce with which it arrived.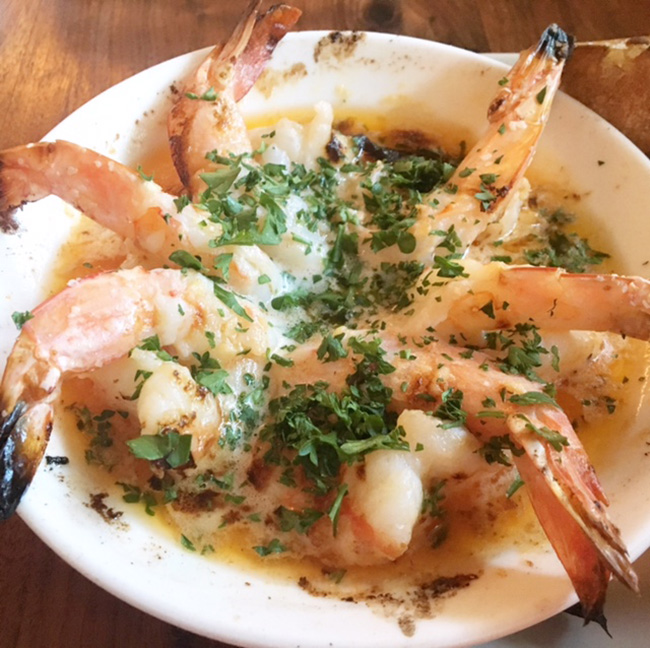 The Shrimp Scampi at Juliet
I love butter lettuce but one rarely sees it in salads around town. The salad chef Weaver created was irresistible with a subtle champagne vinaigrette dressing that complemented the vegetables and those lovely red onions and avocados. The pecans were a nice touch as well. Make a point to try this on your next visit.
Ravioli is an Italian staple and Juliet serves a simple ricotta cheese ravioli with a marinara sauce that is spot on. A simple dish that underscores the less is more style of traditional Italian cooking and one that my wife particularly enjoyed.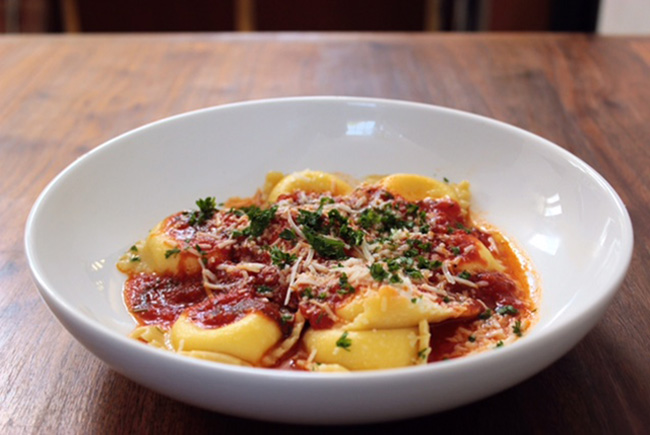 Juliet Italian Kitchen's Ravioli

The 17-layer lasagna is another new dish with the aforementioned pasta served beautifully al dente in a bolognese sauce that I felt could have used a bit more Italian sausage  along with the beef and veal. It was an enjoyable dish, however, with each layer doing its job to create the overall effect.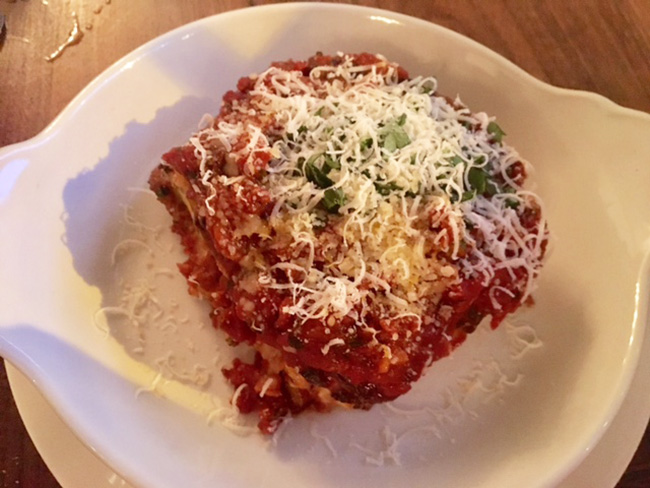 Juliet Italian Kitchen's 17 Layer Lasagna
The pizza we had was  the Cacio e Pepe with mozzarella, Pecorino Romano, and cracked black pepper. This was a delightful pizza, worthy of inclusion in our next Pizza Wars edition. The crust was spectacular and the cheeses blended perfectly. Great pie!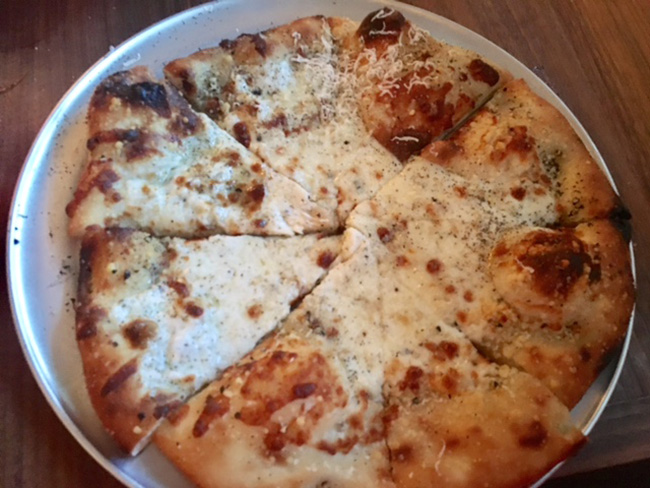 Cacio e Pepe Pizza at Juliet
Perhaps the surprise of the evening was the Chicken Saltimbocca, a dish I had not had in some time. This features perfectly cooked scallops of tender chicken along with prosciutto, sage, provolone and mozzarella with an engaging Parmesan cream sauce and fettuccine noodles. Some might call this a retro dish. I call it a perfect choice for an evening meal.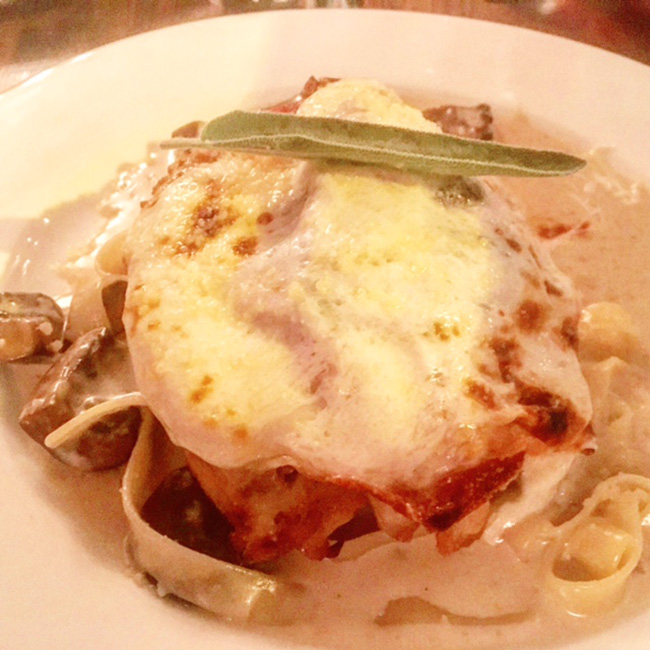 Chicken Saltimbocca at Juliet
Keeping in the retro vein, Chef Weaver offered an Veal Parmigiana that featured a nicely cooked veal cutlet coated in mozzarella and Parmesan cheese along with a fresh tomato sauce and spaghetti marinara. The marinara was a bit strong for my taste but the veal was clearly the star of the dish.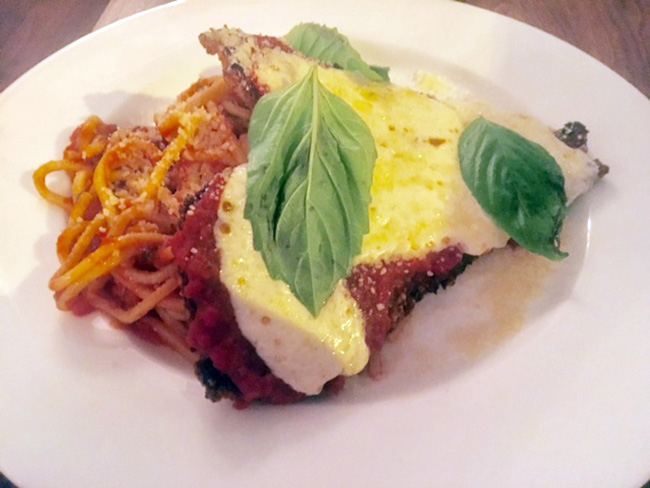 Veal Parmigiana at Juliet
The final entree we tried was the Stuffed Branzino Romeo. This lovely Mediterranean sea bass was offered up au natural (whole) and was stuffed with shiitake mushrooms and spinach. The roasted olives on the side provided a nice flavor contrast to the sweet flesh of the fish. The dish begs to be photographed almost much as it does to be eaten. A really flavorful dish.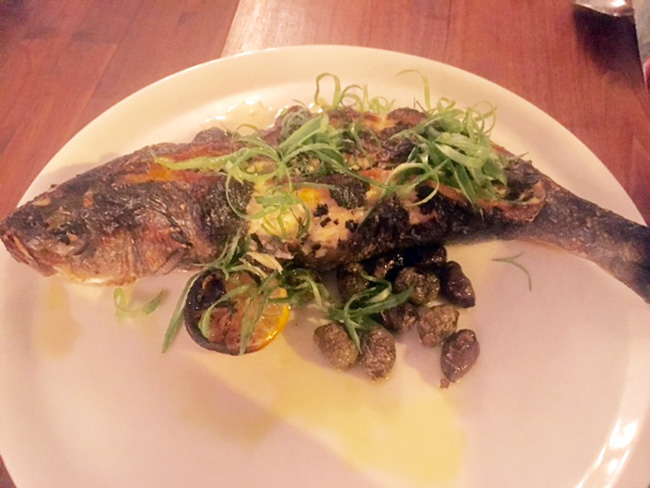 The Stuffed Branzino Romeo at Juliet
Juliet Italian Kitchen is family friendly and the food (thanks to Chef Weaver) is quite approachable. The outside patio hosts live jazz on Wednesday nights and during Sunday brunch. Inside, its cozy and charming and well, there's that word again, inviting. They place a premium on service here which goes a long way toward completing a great lunch or dinner. And actually, there's an all-day menu as well. Family size portions are available on most dishes. This is a nice addition to the Barton Springs neighborhood.
Juliet Italian Kitchen
1500 Barton Springs Rd
Austin, TX 78704
(512) 479-1800