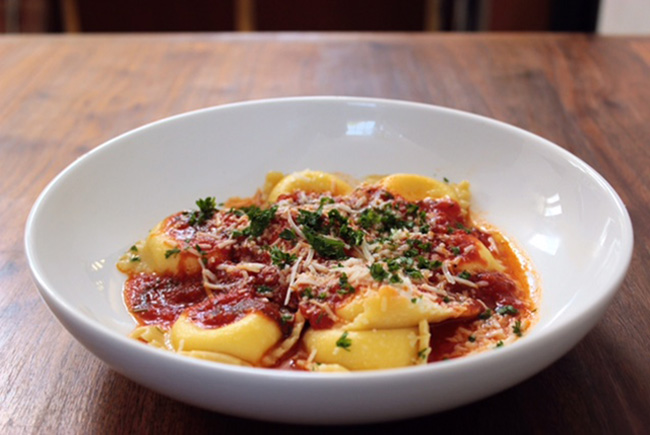 The restaurant business is enormously competitive. Typically, restaurants that are successful over the long haul face a variety of challenges, not the least of which is the challenge to realistically assess one's own concept/operational plan and the decision to either change or augment that plan as necessary.
Owner Dan Wilkins and Exec chef Jacob Weaver run a restaurant that has just emerged from retooling the menu and rebranding the business. They opened as Juliet Ristorante on Barton Springs near Lamar in July of 2015. They were positioned to go after the higher end customer. The opening was strong and their initial guest count was high. But as they began to assess their metrics they realized that they weren't maximizing the full capacity of the restaurant. They also realized that the menu's more upscale casual offerings were outselling the more elegant fare. On top of that, they came to see that their original design of interior space was delimiting their ability to plan and host larger private events.
The good news is they were astute enough to recognize the  challenge they were facing. (There's an unfortunately long list of failed restaurants in Austin that faced similar obstacles but failed to correctly identify or act on them). Then came the tough part. They had to walk away from what many would have considered a pretty successful operation, which entailed backing away from their chef-driven operation and moving toward a menu-driven approach. So they went to New York and spent several weeks dining at restaurants that were close to what they were envisioning. Then they hit the operational drawing board to flesh out the concept and the menu.
The hard duty was to embrace the concept of an upscale family friendly approach without creating the notion that it was a restaurant for kids. So the team redesigned the menu to include more Southern Italian dishes (lots of red sauce) based on their assumption that many adult diners were nostalgic for items like Veal Parmesan and Chicken Saltimbocca. The pastas are made in house along with the breads and many of the cheeses and desserts.
They added family style servings of many dishes and did include a separate children's menu. They retained some of the most popular menu items from the original restaurant like salmon crudo with capers, grilled octopus over smashed fried potatoes and fried calamari with pickled hot peppers. But that was it.
Then it was time for a rebranding. Juliet Ristorante gave way to what the team thought was a more user friendly and less "formal" name: Juliet Italian Kitchen. They believed it was a name and concept that was a better fit for the more casual atmosphere of the Barton Springs neighborhood and that would better reflect the new menu.
At this point the restaurant closed for two weeks back in May. This allowed the team to rework the existing interior to reflect the changes in the cuisine. They added more art to brighten things up and paid more attention to comfort and accessibility in the seating. They kept the beautiful outside patio and bar, and moved some of that lovely greenery to the inside as well. They also added a new room for private dining that could accommodate smaller groups looking for that option.
Still another critical goal that was met during the closure was to retrain the staff on the new menu. Dan and Jacob understand that a well-trained wait staff is vital to the goal of a seamless dining experience. The decision was made to retain all senior kitchen staff as well to aid in the continuity of the transition.
Both the cocktail menu and wine list were trimmed back. The popular cocktails can still be found as well as a new innovation called "Patio Pounders" which are poured with an eye toward libations which are designed to be lighter and more refreshing. There's more of a nod toward Italian varietals on the wine list, which makes sense given the new menu but the number of bottles available will still be an ample 100.
Finally, to even further enhance the appeal of the outside patio and bar, the team entered into an agreement with KUTX-FM to host a series of bi-weekly Wednesday evening live jazz performances along with jazz to accompany Sunday brunches. The idea here was to use live music to augment the mood at the new Juliet.
Juliet Italian Kitchen, having identified and met the market challenges head on, has been back up and running for a while now. From what I've seen thus far, things seem to be running smoothly. It took a lot of pluck to accomplish this, but as I said earlier, this is what can make for long-term success in the restaurant biz. Indeed, we shall see!
Coming soon: a detailed response to that new menu.