Tue-Thu: 11am-9pm
Fri: 11am-10pm
Sat: 3-10pm
Sun: 10:30am-3pm
I first discovered Garbo's last fall at the site on Bratton Lane in Round Rock that used to house the original Gumbo's. As a couple of transplanted New Englanders, my wife and I were delighted to see that Garbo's offered fresh fried clams (with bellies) and genuine Maine lobster rolls. So we immediately made a pact that we would wait for our anniversary and once again visit this quaint little spot.
This Tuesday marked 43 years for us: hard to beleive, I know. But neither of us forgot our promise to head to Garbo's. I called owner Heidi first just to make sure they had clams and lobsters in abundance: and they did.
And so there we were. Not quite drooling (a la my Black lab Colyn) in anticipation, but close. The order was a no-brainer. We began with the banked stuffed clams: a classic New England dish. You begin by grinding some clam meat, adding bread crumbs, butter, a dash of pepper, and a little onion (to taste). Into the over they go. When the breadcrumbs take on that crispy sheen, the clams are ready. And they were delightful. Could have done with a bit less salt, but that's a minor annoyance.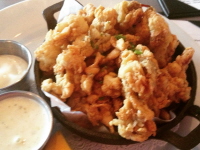 Next up were the Fried Clams with the bellies. And that's the key, for therein is the source of the flavor. The clams were lightly breaded and fried to a golden brown. The flavors were rewarding, and there was a major taste explosion when we took the first bite of the belly. How anyone can be happy with a clam strip after tasting the real deal is beyond me.
We lingered over the clams and the rich, white tartar sauce (please never an aioli). Memories of dozens of East coast joints we'd been to came up, and you know what? Garbo's held its own.
Then came two Lobster Rolls, the old style way. They grilled a hot dog bun, loaded in meat from the claws, and drizzled drawn butter over it. The combination of flavors was almost distracting it was so good. But somehow we got through it. ;} Best lobster roll I've had in ages. The meat was tasty and tender, and the roll was fresh. That's the way to do it, and Garbo's nailed it. The accompanying fries were good but superfluous. We barely touched them. Didn't need to.
A simple dinner, yet elegant in so many ways. Couldn't have planned a better anniversary for a couple of Yankees. The good news is you don't have to have CT roots to enjoy Garbo's. It is a discovery that you will find most engaging. The rolls and the clams are on the pricey side, but for us, worth every penny.