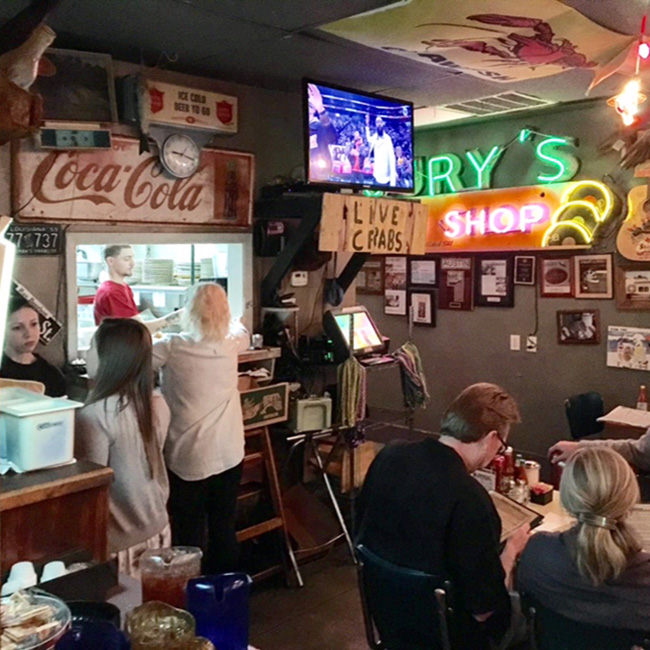 Don't ever tell a die-hard Cajun that Evangeline Bellefontaine was a fictional character in a Henry Wadsworth Longfellow epic poem. Fictional or otherwise, she is much cherished in Cajun culture.
So it's not surprising that more than a few Cajun restaurants are named for her. We have one here in Austin called Evangeline Cafe on Brodie and it would make the Acadian transplant proud. Curtis Clark and his team opened in 2002 and their place has become a cultural (killer Zydeco bands) and culinary landmark.
We always start with an order of Alligator bites. These are surprisingly tender yet firm enough to dip in the zesty aioli. They are very tasty with their own unique flavor. And no, they don't taste like chicken.
Another mandatory appetizer is the Oysters Contraband. You begin with six perfectly fried oysters served on House-made chips along with a well-crafted remoulade sauce. Each bite delivers exemplary flavor. Great dish.
And you must try the Seafood Gumbo with a nice dark roux and oysters, crab and shrimp. This is one of my essentials at Evangeline. The flavors are delicate while at the same time imparting a bolder mouth feel. Did I say I love this dish?
A new dish has graced the menu and it's called the Hank Williams Platter. And it's what one might expect: Jambalaya, Crawfish Pie and File' Gumbo. Who dat? It is a very tasty dish loaded with classics that I highly recommend.
One of my favorite entrees has long been the Catfish with Crawfish Macque Choux. The Catfish is served over white rice and covered with the Macque Choux, which is a kind of creole corn chowder. Amazing and explosive flavors from this dish. Once tried you will not forget it!
Also make sure to get the Crawfish Evangeline. This crowd pleaser consists of Crawfish tails that are lovingly simmered in cream and cheese then served over appropriately al dente fettuccine. Rich mellow flavors abound here. It was love at first taste for me.
No review of Evangeline Cafe could be complete without the mention of their stellar Crawfish Etouffee. Unlike the Gumbo, this dish has a blonde roux and it is perfection. While I'd recommend eating it hot from the kitchen to maximize the terrific melange of flavors, I have on occasion been forced to reheat after a day or two in the fridge. You know what? All the major taste components were still intact and it was damn good.
I never thought of burgers at a place like Evangeline, more their Po Boys (try the Shrimp). That was until I tried the Lake Charles Cheeseburger. What a find. When I asked Curtis about the history of this burger he gave me that sly coonass grin of his and said there was a gun and several prematurely deceased Cajuns involved. Hey, they take things seriously in Lake Charles. The origins of this recipe notwithstanding, it's one tasty son of a gun!
And it's fitting to conclude with the Peacemaker Po Boy. This is the oldest and perhaps least known of the incredible array of sandwiches that NOLA has given the world. The idea behind the name was that when an errant husband needed an appeasement for his annoyed spouse, he would bring home a foot-long baguette laden with fried oysters, cheddar and bacon. And Evangeline Cafe serves up a damned good one.
So there you have it, fellow foodies. This place is well worth the visit. The music gets loudest on Friday nights and surprisingly Saturdays nights are sans music. So pick a night (hard to choose a bad one) and as Evangeline herself might have said: "laissez les bon temps roulez" or "let the good times roll."