111 E Cesar Chavez St
Austin, TX 78701
(512) 478-2991
Sun-Thurs: 7am-2pm, 4-10pm
Fri-Sat: 7am-2pm, 4-11pm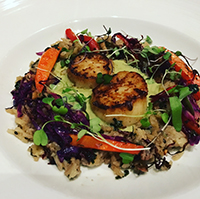 I have been a long-time fan of David Garrido's work, from his many years at Jeffrey's to his upscale Taqueria on 3rd. I've always admired his culinary imagination and his deft touch in the kitchen. And that's why I'm delighted that he's back in action along with Chef Mario Medina at Dine, in the Radisson Hotel overlooking the Congress Avenue bridge and Lady Bird Lake.
The former occupant in this space was Shawn Cirkiel's Chavez. Dine is a large departure from that menu. And my first two tasting have been most encouraging.
We started with a very tasty Linguica Sausage platter. The sausage was moist and a textural and taste delight. Minor complaint: I would have preferred more of a Dijon style mustard.
We also enjoyed the Beef Tartar. Two critical components of a good tartar are smooth texture and nuanced flavors. Garrido's dish delivered on both counts. Another small plate that went down quite nicely was the Baby back Ribs in a caramelized tomato glaze. The mouth feel of this dish was extraordinary which is not always the case with Baby Backs. Garrido coaxed every ounce of flavor from the uber tender ribs and importantly, the glaze did not overwhelm the subtle tastes. We enjoyed the Crab Noodle Salad as well. The combination of red bell peppers, mango, and napa cabbage with a passionfruit vinaigrette yielded a fresh. zingy flavor that was spot on.
Next up was the Wagyu Steak and Frittes. The tastes were quite compelling in spite of the slightly overdone status of the steak that night. Loved the "cafe de Paris" sauce. Caught a glimpse of a lovely Filet Mignon headed toward another table. Mental note; try that next time!
The Pumpkin Risotto was an exceptional dish. Risottos can tend to get a bit heavy but ours was light, almost gossamer on the palate. The sweet drop peppers and the espresso foam combined for a wonderful taste experience.
Perhaps my favorite dish of the entire evening was the Pan Seared Scallops in a vegetable stir fry, seasoned jasmine rice, and, for what took it over the top for me, an exquisite green curry. The scallops themselves were perfectly cooked and the presentation was stunning. We enjoyed it so much that we got another one to go. And it warmed up beautifully the next day.
We also got a side of everyone's favorite vegetable of the moment, Brussels Sprouts. Done with a carrot habanero sauce and peanuts, it could not have been any tastier.
Astonishingly we had some room left for dessert and I chose the Chocolate Cremeux. Good choice Rob! This salted caramel ice cream in a peanut butter snow with a chocolate glaze was the perfect ending to a great evening of tasting.
Kudos to Garrido and Medina on some great work. I have every reason to believe that Dine is only going to get better.