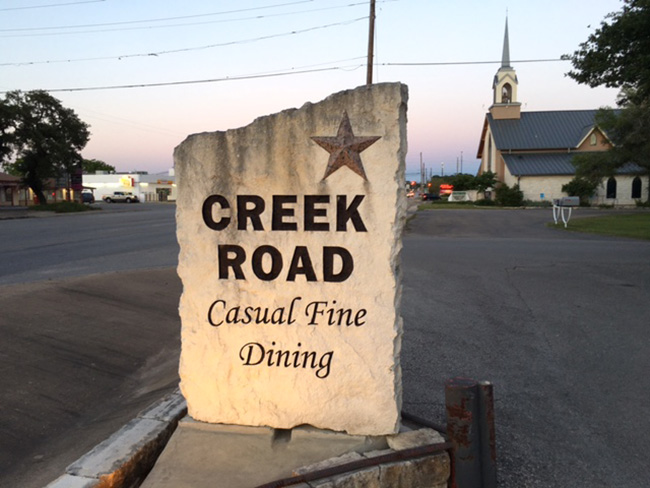 The local food world was stunned last year when we placed Creek Road Café in our Top 25 Fine Dining Spots. First time ever for a restaurant south of William Cannon to be ranked that highly.
Well guess what? Our new Top 25 list is about to come out and Creek Road is still on it.
The food is every bit is good. Ditto for the service. We tried Chae's Clam Chowder recently and it was, as always, spot on. The flavors were quite compelling, the clams were tasty, and it was a perfect way to begin a great meal.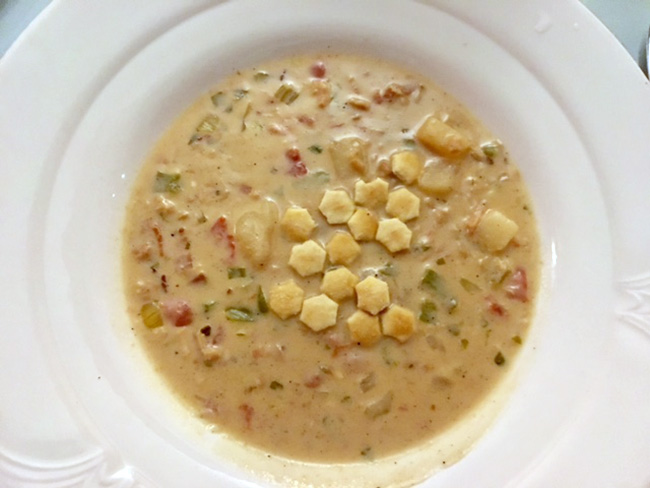 Chae's Clam Chowder
The wedge salad was a delight, too. The secret to the success of this dish is the cucumber ranch dressing. It envelops the crispy greens in a layer of smooth and savory richness. This is virtually a must order for me every time.
Marge got the baked brie and it was spectacular. The brie is coated in panko bread crumbs and sautéed to a golden hue with an apricot cranberry compote. You can enjoy a wedge of this along with chopped almonds on toasted slices of baguette. Utterly delightful.
I could not resist ordering the Trautwein Shrimp. This dish never fails to please. What I like about it is that the shrimp is sautéed with a fulsome Newburg Sauce and served with cheddar smoked, house-made grits. The two items complement each other beautifully. And then add a charred avocado half to make an absolutely irresistible flavor.
Another great dish is the Ranch Road 12 Peppercorn Petite Filet. The sauce on this 4 oz filet is a house made peppercorn cream sauce, and it's accompanied by a subtly enticing sautéed cream of spinach. There is a larger version of this dish but I prefer the smaller one. The petite filet is achingly tender and screams out for a big, bold cab.
The carrot cake is still the best in town and the lemon bars are outrageous. And the silk pie is always an excellent choice.
Keeping a spot in our Top 25 is not easy. But then again Creek Road is something special!
Creek Road Café
301 W Hwy 290
Dripping Springs, TX 78620
(512) 858-9459