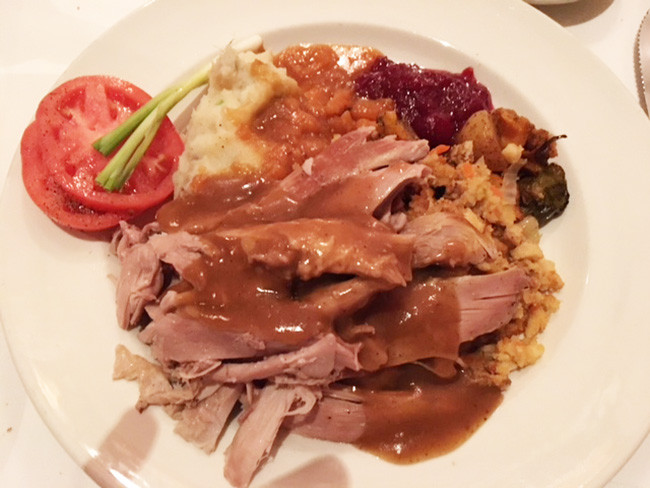 Well, if you're reading this you've decided to forego the shopping, preparation, cooking and then the cleaning up associated with Christmas dinner. Not there's anything wrong with choosing not to cook on the big day. It does come with a lot of hassle, not the least of which usually falls on the distaff side of the household.
So here's a list of good restaurants for Christmas Day. May the feast be with you.
Trio
This stellar restaurant at the Four Seasons Always has a killer holiday brunch and they always book up fast. But be persistent –  they might get a cancellation or decide to open up one of the hotel ballrooms! Open from 11-8.
Estancia Churrascaria
They expect over a thousand guests for dinner this year for Brazilian style meats and salads at the Arboretum. But if you're willing to wait a bit you can probably get seated.
Russian House
It's order off the menu this year at this Russian restaurant on E 5th. Vladimir and Varda know how to put on a great dinner! This is truly authentic Russian cuisine so be prepared. But it's quite tasty. They also have over 180 blended Russian vodkas at the bar.
McCormick and Schmick's at the Domain
We've done Christmas dinner here in the past and it has always been good. They've survived the purchase by Landry's and are putting out a great spread.
Chinatown
All three Chinatowns at Mopac, Bee Caves, and W 5th will be rocking, with dim sum and off the menu choices all day long starting at 11am and going till late. Ronald Cheng and his crew have been in fine form and Christmas should be super.
Hao Q
Hao Q is on Far West just up from the newish Biderman's Deli. They will be doing take out only from 12-4 and then seated dining from 4:30 to closing. Great Chinese and Vietnamese cuisine at this spot. Make sure to try the Vietnamese egg rolls.
Wu Chow
CK Chin has done a great job with this stately Chinese downtown restaurant. The food is original and I absolutely adore the scallion cakes. Great shumai as well.
24 Diner
This a whole lot more than your average diner fare. True to their name, they open around the clock. I love the sweet potato hash and any of the pancake variations are terrific. Great to have a spot like this open on Christmas.
Trace at the W
This is a fine restaurant that is about as good as hotel dining can get. Undoubtedly there will be guests from the W dining there, but the general public is welcome as well.
The Driskill Hotel
They are well known for their holiday brunches, and Christmas is no exception. They usually do it in the grand ballroom because the Grille would not accommodate the demand. Always well done!
Hill Country Dining Room at Barton Creek Club
This lovely restaurant is open to resort guests and the public as well. Dinner is Sunday evening from 6-9 pm. Usually a large buffet with a massive salad bar along with turkey, prime rib, and other goodies.
Café Blue Classic Seafood & Oyster Bar
Here's a last minute suggestion for Christmas Eve. One our faves, Cafe Blue, locally owned and operated with locations at the Galleria in Bee Cave and on 2nd Downtown will be offering a delectable Christmas brunch menu!