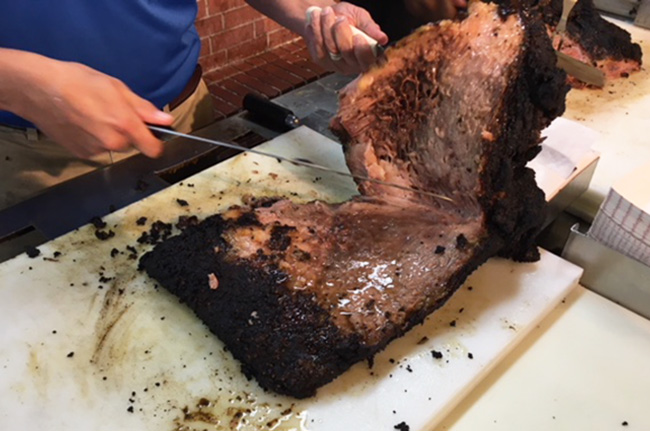 Like any other red blooded Austinite, I love eating the entire panoply of smoked meats and fowl that most of us fondly refer to as "cue." Unlike most other Austinites, however, I am a restaurant critic. In that capacity, I have traveled to many so-called meccas of BBQ including the Carolinas, Memphis, Kansas City, and other lesser known spots. I have come to the conclusion that those of us living in the greater Austin area are fortunate enough to have access to the absolute best BBQ not only in Texas but in the entire U.S.
Okay, there it is. I've said it.
Now on to the next point. In my visits to Texas magazines and local online BBQ reviews, there appears to be a hint of elitism creeping into the Austin BBQ reportage. Texas Monthly, in its most recent BBQ issue, listed 7 Austin restaurants in its Top 50. You probably know who they are but allow me to reiterate: Franklin Barbecue, Micklethwait Craft Meats, Stiles Switch BBQ, la Barbecue, Terry Black's BBQ, Freedmen's, and Valentina's Tex Mex BBQ. I can't say an unkind word about any of these spots. They all are most deserving! They all have huge gravitas and talented pitmasters.
But lately they seem to be all that anyone is talking about. I am prone to believe there are other fine BBQ joints throughout the greater Austin area that merit at least as much recognition as the Magnificent Seven have been getting. So let's talk some BBQ, shall we? I'm not ranking anyone: just a list of my favorites because, frankly, they're all damn good, including the ones that have been sailing under the media radar!
Franklin Barbecue
This story is so amazing I'm surprised some Hollywood producer hasn't optioned it for a movie. Franklin Barbecue began in a small trailer and then moved to a brick and mortar on E 11th. Somewhere along the line Aaron Franklin was discovered by Anthony Bourdain and a horde of national food writers along with online BBQ cognoscenti. Next thing Aaron was appearing in American Express ads with the owner of Nobu. Wow!
So is Franklin's really THAT good? The pork ribs certainly are. Best I've tasted anywhere! The brisket is also classic and the turkey is amazing. But tasting BBQ is so damned subjective. And so personal. Yet it's hard to argue with the daily 3 1/2 hour lines (which can sometimes end with those at the end of the queue getting shut out).
I do take issue with a poll last year that ranked Franklin as the 17th best restaurant in the U.S. I mean where does that leave a bunch of Michelin 3 stars??? Gartner Research calls this phenomenon the "hype curve." But good for Aaron. He is genuinely talented and a great guy.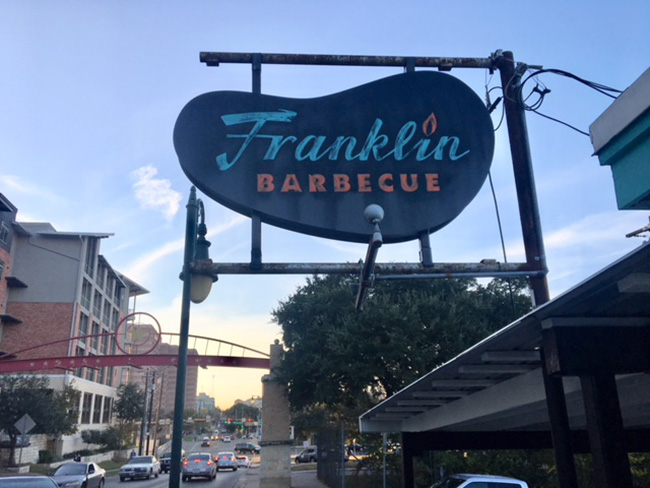 Franklin Barbecue's world headquarters on East 11th Street
Rudy's Country Store and Bar-B-Q
Rudy's will probably never make the Texas Monthly Top 50, but I doubt that Ken Schiller and his partners are bothered by that. They care a lot more about what their customers think.
There seems to be a ranking bias against stores with multiple locations (Rudy's will soon have 5 with the new store on N. Lamar). But Rudy's is fiercely local. Yes, there are other Rudy's around Texas, but the Austin owners have nothing to do with them. They run a tight ship as evidenced by their recent receipt of the Baldrige award for business excellence.
And in my opinion their moist brisket is out of this world and they literally sell tons of it. Great sausage as well and who doesn't love their creamed corn? And nobody ever gets closed out at Rudy's – nobody! I think there's also a ranking bias because they sell so damn much meat. But why do you think they do? Great product, great service, and great attitude. Works for me. So what if they're not ranked in the Top 50? The numbers that really count should make Rudy's very happy.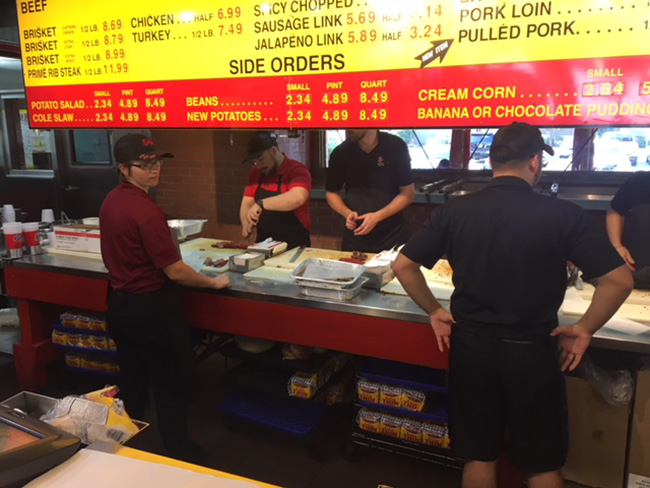 Behind the counter at Rudy's Country Store and Bar-B-Q
Micklethwait Craft Meats
One of the interesting things about the hottest of the hot (press-wise) is the relative newness of these places. Tom Micklethwait, for instance, transitioned from banking to BBQ in 2012 and his Rosewood Trailer produces a peppery yet savory brisket that is delightful. His homemade craft sausages are also irresistible. Even nearby Chinese restaurant Old Thousand couldn't resist the urge to build a fried rice dish with Tom's brisket. They also make a hell of a coleslaw which, in my opinion, is almost a mandatory accompaniment for great brisket.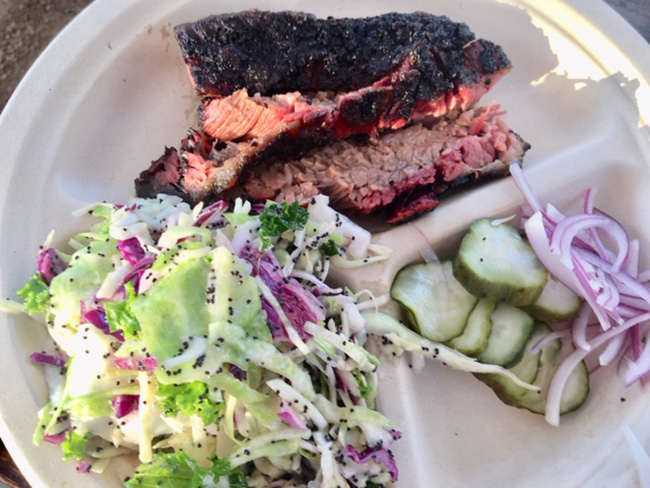 A great looking plate of 'cue at Micklethwait Craft Meats
Big Cat BBQ
Talk to my fellow KLBJ talk host Todd Jeffries or KEYE-TV meteorologist Chikage Windler, both of whom reside in Cedar Park. Or talk to any other BBQ fans in the area and they'll let you in on a very pleasant surprise: Big Cat BBQ.
Proprietor James Jones overcame a multitude of unfortunate injuries which caused him to abandon a thriving health care operation and take over an old Dickey's Barbecue Pit on 1431. And what a job he's done! His burnt ends alone should be enough by themselves to send the Texas Monthly folks. The first bite is almost atomic: the flavors spill out along with the juices into a almost perfect piece of work. Great chicken as well and sausage that smacks of authenticity.
So why aren't they on the LIST? As long as our loyal readers understand just how good Big Cat that's a huge step forward.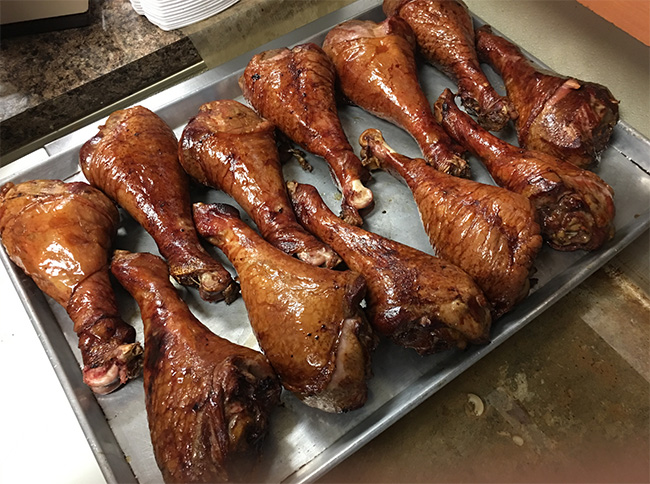 The BBQ chicken at Big Cat
Stiles Switch BBQ
When Bill Dumas, formerly of Smokey Denmark BBQ, joined Stiles Switch on N. Lamar last year, the team he formed with pitmaster Lance Kirkpatrick was pretty damned impressive. Which of course yields equally impressive barbecue.
Stiles Switch takes its name from an historic 1800's railroad stop, and their precision in the pits unleashes some cue that is almost jaw-droppingly tasty. I see my KLBJ cohost and fellow BBQ aficionado Ed Clements there on a regular basis and that's always a good sign. They make a damned good beef rib and also kick butt with the moist brisket. Strange point I guess, but I absolutely adore the aromas that emanate from this place.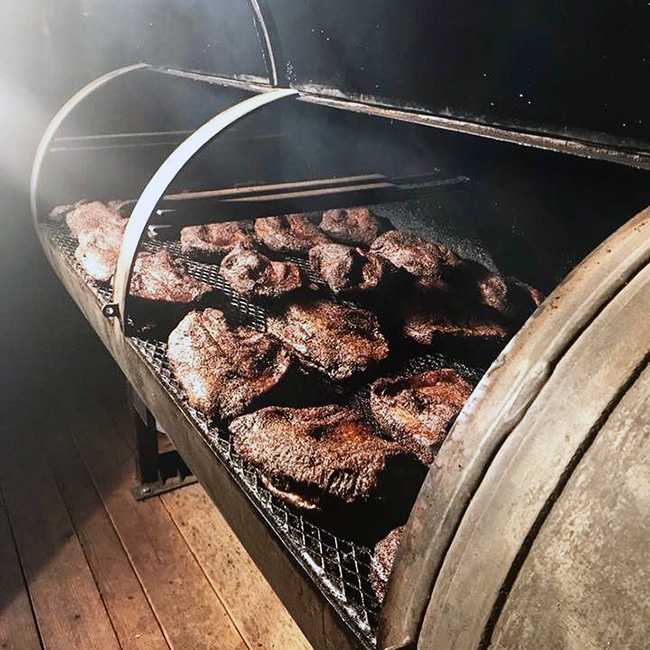 The pits at Stiles Switch BBQ
It's All Good BBQ
The picture below of pitmaster Frankie Hoch says it all about this place out in Spicewood. IAG began with a bunch of friends who met at one of the many BBQ competitions that crisscross Central Texas each weekend. They all had day jobs: Frankie fixed cars for the APD (and still does). Dale has an electrical contracting company. But their love of BBQ led to a collective effort to start a great joint. And they accomplished it.
The beef rib, tender as the night (to borrow a literary cliché), may be one of the top two around and the turkey is a moist and highly edible celebration of flavor. This place has got some fiercely loyal followers and is easily the best cue in that area. Moist brisket and pulled pork are also terrific and their sides are diverse and really good.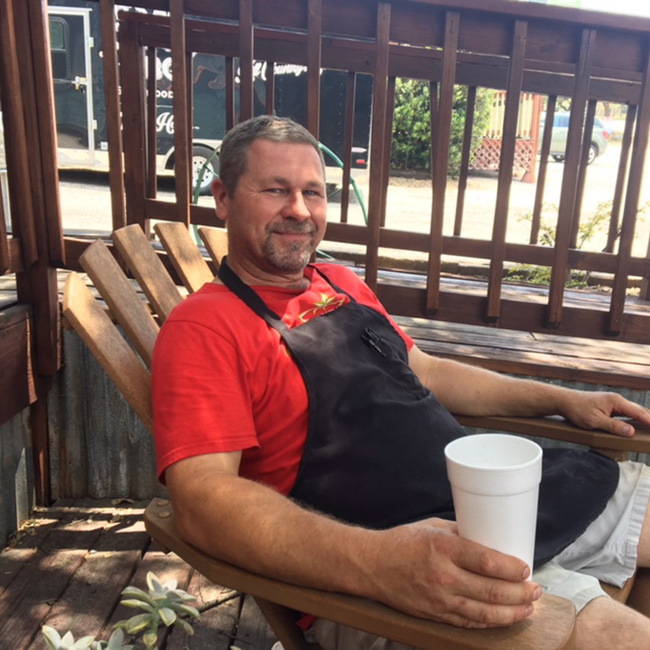 Pitmaster Frankie Hoch of It's All Good BBQ
PoK-e-Jo's Smokehouse
Danny Haberman has been a driving force for this local family business that began in 1979 and has several locations around town. This is another spot that didn't make the Texas Monthly list, but it has terrific pork ribs, a substantial moist brisket, a delicious "spicy" Texas pulled pork, and the biggest and best group of sides in the city. (The broccoli salad is very good as is the green bean casserole and the over-the-top baked potato casserole, to name just a few.)
And although the BBQ cognoscenti (whoever they may be) have not wholeheartedly embraced it, it too has a strong local following. And virtually anytime I pop into one of their locations a lot of seats are full. Amen!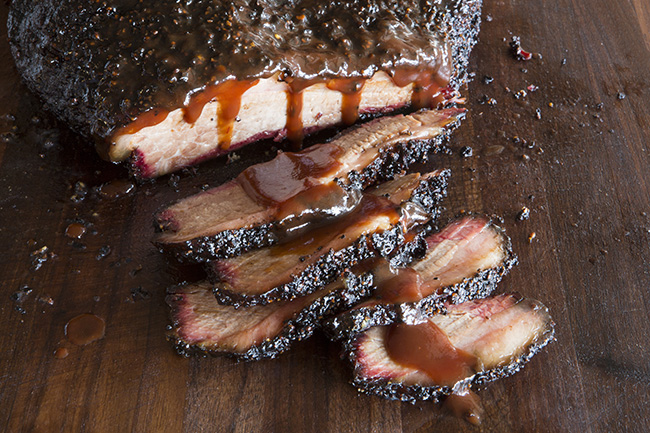 The brisket at PoK-e-Jo's Smokehouse
La Barbecue
After what amounted to a bit of a falling out between siblings John and LeAnn Mueller at their place on S. First, la Barbecue at 2027 Cesar Chavez was eventually created. It is 100% female owned (don't see much of that in the BBQ biz). And the "la," in case you're wondering, stands for LeAnn. And like her brother, she too has a feel for great BBQ.
Pitmaster John Lewis only amplifies the very savory tastes that this place produces. Frankly I was very taken with the food. Incredibly tasty brisket and a pork rib that literally falls off the bone. They also do an amazing beef rib and a lovely pulled pork sandwich. No argument with their spot on The LIST!
la Barbecue's delicious brisket
Valentina's Tex Mex BBQ
This is another vintage family-owned joint way out on Manchaca Rd., not far from FM 1626. Miguel Vidal and his wife Modesty are the mainstays of this unusual amalgam of Tex Mex and BBQ.
It's a small trailer but it produces big flavors. The brisket is fairly conventional and tenderly delicious. But when was the last time you saw smoked carnitas at a BBQ joint? Here's where it gets interesting. It comes with caramelized onions and a cilantro tomatillo habanero salsa. I eschewed the tortillas on this one and just dove in: the result was pure, unadulterated carnitas and it was exceptional.
They also do a marvelous BBQ Fajita. Again, killer flavors. Excellent pork and beef ribs are available by the pound. I would have never thought of this but one must admit it's a hell of an idea.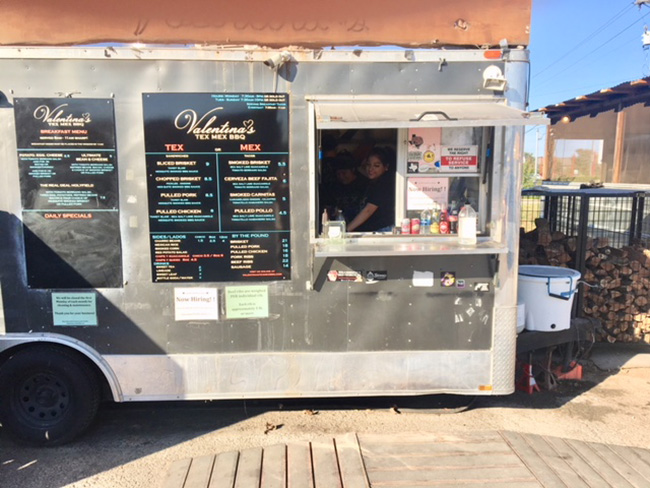 Valentina's Tex Mex BBQ
Other BBQ Very Worth Mentioning
• The Salt Lick BBQ (Best babybacks and slaw in Austin)
• Cooper's at the Marriott (Not quite Llano, but good)
• Freedmen's (Smoked beets and goat cheese? Wow!)
• Slab (Try the new location at Y in Oak Hill)
• Iron Works BBQ (Killer pork loin)
• Black Box Barbecue (John Mueller reappears in Georgetown. Thank God!)